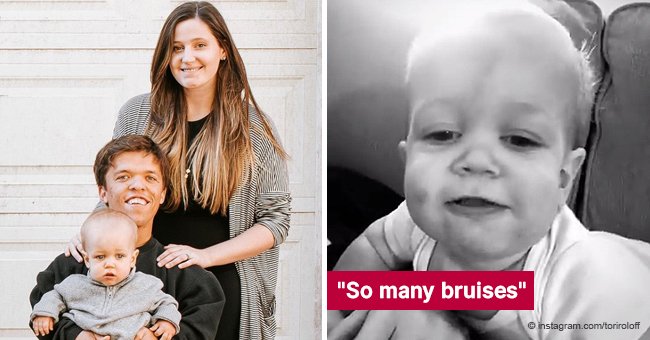 Tori Roloff shares a video of her son Jackson, but people show concern about the baby's bruises
Fans of the reality television show "Little People Big World" are concerned about Baby Jackson's bruises.
Earlier this week, his mother shared a photo of the adorable toddler covered in bruises. She wrote in the caption:
"So many bruises but he's still as cute as can be!"
As predicted, most critics rushed to other photos of Baby J on Tori's profile to criticize the young couple for their parenting skills.
Read more on our Twitter account, @amomama_usa. Someone scrolled all the way down to a photo shared in August to say that Baby J is sitting to close to the water.
Another wanted to know what happened to Baby J and why did he have so many bruises as it was "way too many for a toddler of his age."
Thankfully, Tori had plenty of fans to back her up, with one user known only as SarahG adding that toddlers "bump into things all the time."
Another said that the critics should keep their opinions to themselves, while BabyGirllX said it's "very clear that Tori and Zack are loving parents, and not abusive."
If critics aren't lashing out at Tori about her so-called bad parenting moments – ungrounded, of course – they are wondering when baby number to will arrive.
Tori had to address pregnancy rumors earlier this year again and handled the situation in a lighthearted way, saying it's not a baby bump, it's "just yesterday's burrito."
The reality star added that if she were pregnant every time a rumor was doing the rounds, she "would have like eight kids by now."
She asked that her followers be patient, and added that they would share the news in their own way if and when it happens:
"If and when Zach and I are blessed with another little one we will share on our own time and in our own way."
In another post she said it's damaging to ask a woman "are you pregnant" or "when is the next one coming." It is insensitive and can be hurtful to women who are struggling to conceive.
In the past, Tori had to "watch time and again" how some of her friends and even family members were struggling to conceive.
She could see how much it hurts them "every time this questions is asked," and wants her followers to be mindful of others' feelings.
Please fill in your e-mail so we can share with you our top stories!