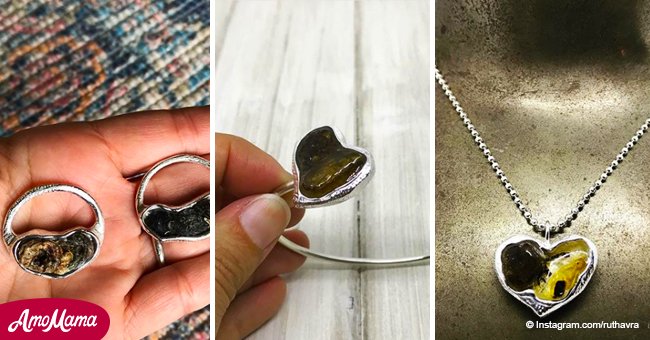 Moms wear jewelry embellished with their babies' umbilical cords instead of gems
A new jewelry trend amongst mothers is making headlines: they're sporting jewelry made from pieces of umbilical cord.
Artist and jeweler Ruth Avra started the trend and sell the custom-made pieces online for under $200 a piece.
Read more on our Twitter account, @amomama_usa. The jewelry items can be seen below or on Avra's Instagram account.
No two pieces are alike, and Avra uses the umbilical cord stump. It's the piece of the umbilical cord that stays attached to a child's stomach after the cord has been cut.
The stump falls off naturally between 7 to 21 days after the birth, and now it's providing the perfect opportunity to mothers who want to carry a piece of their baby with them. Literally.
Avra explained in an interview that the idea struck in 2012 when both she and her best friend had babies at about the same time. She explained:
"I put both stumps next to each other on the table. Lightning bolts struck and I had a plan. It represents the connection between mother and child because it's literally the physical connection that is between you."
Avra first fits the umbilical stump into a wax mold which is then replaced by liquid hot silver. The process is known as "lost wax casting."
Once the item is set, she polices the piece, preserves it in resin for durability, and then attached the cord or chain.
Using bits and pieces of the human body for jewelry and art and is not a new idea and has been around for centuries.
In fact, back in 1867, a book titled "Self-Instruction in the Art of Hair Work, Dressing Hair, Making Curls, Switches, Braids and Hair Jewelry of Every Description" was published by one Mark Campbell.
Throughout the years, intricate pieces of jewelry and even large artworks have been made using umbilical cords, placenta, human hair, bone or the ashes of a departed loved one.
Please fill in your e-mail so we can share with you our top stories!