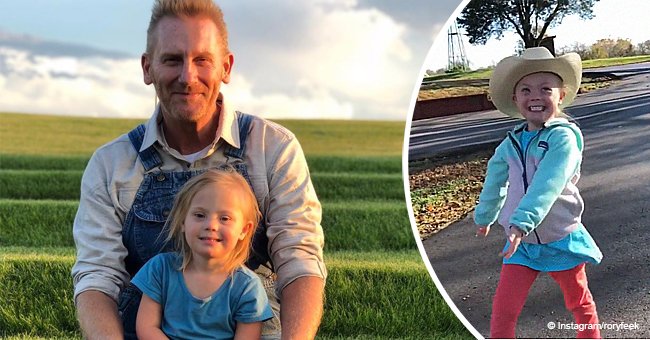 Rory Feek shares a cute video of daughter Indy who squeals with excitement about going to school
4-year-old Indy started school in September and she has fallen in love with it so much that her father says she runs to it every morning, and he captured her in an adorable video.
On November 7, 53-year-old country music singer Rory Feek took to his Instagram account to share a beautiful clip of his little darling as she can't hide her enthusiasm about a new school day, and we are all in love with her.
The devoted father filmed Indy one morning as he walked her to school, inspired by her high spirits and contagious smile, and the clip has been liked more than 44.000 times in a couple of days.
"Walking, I mean running, to @hardisonmillschool this morning," Feek simply captioned the video that speaks for itself. Read more on our Twitter account @amomama_usa
Since the loss of his wife and professional partner Joey from cancer in March 2016, Rory has been raising his youngest daughter, who was only two when her mother passed away, with the help of his two older daughters.
32-year-old Heidi and 25-year-old Hopie, from Rory's previous marriage to Tamara Gilmer, were raised by him as a single father following his 1992 divorce, and they are always near to help him take care of Indy.
It feels like the devastating death of Joey, who formed the musical act Joey + Rory with her husband in 2008, happened not long ago, and it is shocking to see how much Indy has grown since then.
Rory's fans were delighted to see that Indy is doing so well and enjoying herself, and they made loving comments to the clip, always remembering late Joey and imagining how proud she would be.
"Her mama would be grinning from ear to ear to see her thriving like she is. Beautiful!"
-Cindy Potter Detrick, Instagram, November 2018.
"Her mommy is a smiling down on her she would be so proud," wrote Betty Jo Pumphrey, while Ruthie Hittle added: "So cute...I don't remember ever being that excited about going to school."
This is far from the first time when Indy steals everybody's hearts with her cute appearances in her father's social media. Rory's post of Indy dressed up as a cow for Halloween was also a fan favorite.
Thanks to his faith, all the support from his fans and his daughters, Rory has continued his life in high spirits to honor the memory of his late wife, and recently he celebrated with a new album that compiles the most beloved hits the two created as a duo.
"The Singer and the Song" was released on September 21, along with a DVD, and Rory explained that he didn't necessarily choose their most famous hits but "the songs that brought out the best in us."
"Each time we went into the recording studio, we tried our best to choose the best songs we could for where we were in our lives. Sometimes they were songs that we had written, a good bit more of the time they were songs from friends, strangers, and now and then heroes of ours," Rory shared.
Please fill in your e-mail so we can share with you our top stories!