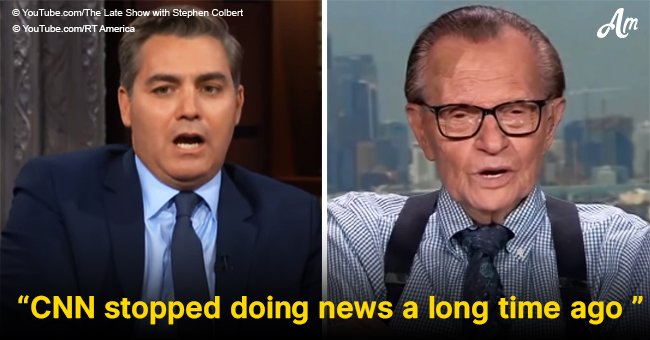 Larry King mocks CNN in embarrassing statement after Jim Acosta's scandalous press-conference
President Donald Trump is constantly on the news and legendary host Larry King seems to be tired of it, which was why he slammed CNN for not 'doing news.'
The 84-year-old didn't hold anything back and severely criticized his former employers for favoring the U.S. President instead of real news.
In a Youtube video that is going viral on social media, King can be seen giving Rick Sanchez, host of RT America, a piece of his mind.
Follow us on our Twitter account @amomama_usa to learn more.
TOO MUCH TRUMP ON TV
To King, everything seems to revolve around Trump nowadays, so much that he believes 98 percent of Americans mention the mogul at least once a day.
Whether it's to report Trump walking up to his private plane with toilet paper stuck to his shoe or his comments on how immigrants are the greatest evil in America, he is everywhere.
TRUMP'S TWO SIDES
According to King, CNN has been carrying Trump even 'more than Fox News' and that 'Fox is Trump TV.' To the host, real news such as the storms and strong winds are being ignored just so Trump can be in the spotlight.
When it comes to the man himself, King claimed that he has known the President for 40 years and that he has seen his good and bad sides, although the latter is more predominant.
"I know the good side of Donald, I know the bad side of Donald, I think he would like to be a dictator. I think he'd love to be able to just run things. So he causes a lot of this."
Larry King, RT America, November 6, 2018
NOT WELCOME
Trump was recently in Pittsburgh, Pennsylvania, where he attended a memorial for the victims of the shooting at the Tree of Life synagogue. His wife, Melania, tagged along but protesters were not happy about their presence.
Over 70,000 critics signed an open letter, which originated from local Jewish leaders, and claimed that the President is 'not welcome' in Pittsburgh until he 'fully denounces white nationalism.'
Please fill in your e-mail so we can share with you our top stories!