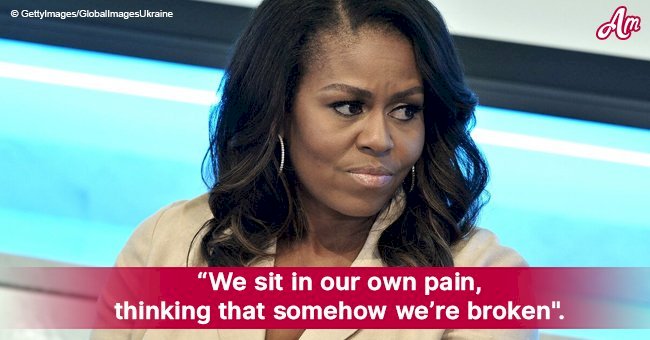 Michelle Obama drops a bombshell about Malia and Sasha's birth in her new memoirs
Michaelle Obama has written a memoir. One week before its release, she did an interview and revealed shocking facts about her past.
Michelle, 54, spoke to ABC News anchor Robin Roberts about an incident that happened 20 years ago. The former first lady suffered a miscarriage and was unable to conceive naturally.
According to USA Today, Michelle said she felt "lost and alone" when it happened. A clip of the interview is found below.
She explained why she did:
"I felt like I failed because I didn't know how common miscarriages were because we don't talk about them. We sit in our own pain, thinking that somehow we're broken."
Michelle gives more details in her upcoming book. But she is opening up:
"So, that's one of the reasons why I think it's important to talk to young mothers about the fact that miscarriages happen, and the biological clock is real."
"I think it's the worst thing that we do to each other as women, not share the truth about our bodies and how they work, and how they don't work."
The interview, which aired on "Good Morning America," also uncovered information about her daughters.
"The biological clock is real... egg production is limited. I realized that as I was 34 and 35. We had to do IVF."
Michelle and former President Barack Obama were later able to welcome their daughters Malia, 20, and Sasha, 17.
Michelle wrote about how she held back with her husband at first until they kissed.
"As soon as I allowed myself to feel anything for Barack. The feelings came rushing -- a toppling blast of lust, gratitude, fulfillment, wonder."
But, like many others, their marriage needed a push along the way. She told Roberts:
"Marriage counseling for us was one of those ways where we learned how to talk out our differences. I know too many young couples who struggle and think that somehow there's something wrong with them."
"And I want them to know that Michelle and Barack Obama, who have a phenomenal marriage and who love each other, we work on our marriage. And we get help with our marriage when we need it."
The full interview titled "Becoming Michelle: A First Lady's Journey with Robin Roberts" is set to air on Sunday at 9 p.m. ET/PT on ABC.
In her book, "Becoming," Michelle addressed a number of issues as well as writing about her past. She delved into the vitriolic abuse she encountered with her husband's election run announcement.
She also spoke about growing up in Chicago and how she arrived at her position as the first black first lady. Michelle further criticized President Trump for sexist remarks he made regarding women that came to light in 2016.
She chastised Trump for pushing the false claim that Barack was not born in the United States. Michelle called his actions "dangerous" and said she would "never forgive" him.
"The whole [birther] thing was crazy and mean-spirited, of course, its underlying bigotry and xenophobia hardly concealed," Michelle wrote. "What if someone with an unstable mind loaded a gun and drove to Washington?"
Michelle and Barack celebrated their 26th anniversary just last month. The two shared sweet posts on social media sending love for each other.
Barack called his wife "an extraordinary partner." Michelle referred to him as "a treasure."
The former first lady's memoir will be released on Tuesday, November 13.
Please fill in your e-mail so we can share with you our top stories!