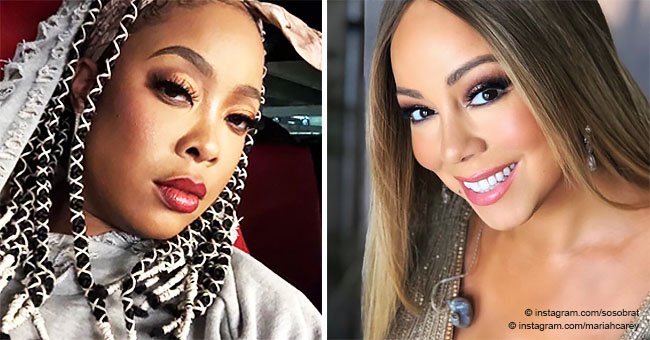 Da Brat breaks silence on reportedly receiving financial support from Mariah Carey
Rapper Da Brat, known for hosting "Dish Nation," declared that she was broke in August 2018. Ever since, several rumors suggest that her friends Mariah Carey and Jermaine Dupri have been giving her money were created.
However, she filed court documents in her bankruptcy responding to those remarks saying that there were no "relevant financial transactions" between Mariah, Jermaine, and Da Brat.
Apart from that, the rapper asked the judge to shut down Shayla Steven's attempt to have her turn over several documents relating to her income, bank records, and other financial papers.
THE LEGAL PROBLEM
Shayla is the ex-cheerleader who won a $6.4 million judgment after the rapper hit her with a bottle of rum in the face at a Halloween party at Studio 72 nightclub in Atlanta in 2007. Da Brat was arrested and sent to jail where she spent nearly two years.
THE REQUEST
Apart from that money, Shayla is requesting for all communications the rapper has had with Mariah, Jermain, the reality tv show "Growing Up Hip Hop in Atlanta," "Dish Nation, "The Rickey Smiley Morning Radio Show," Sony Music, and some other possible income venues.
The ex-cheerleader is asking for that because Da Brat reportedly owes her more than $8 million, which is the money from the judgment plus interest. The Blast reported that Da Brat's monthly income as an entertainer/radio personality is $9,319.
THE NEGATIVE NUMBERS
However, her expenses reach $10,506 a month, which means that she is left with a negative $1,187 at the end of every month. The case is ongoing, and the legal issue between Da Brat and Shayla is far from over.
Recently, the rapper made headlines as she celebrated that she ended her seven-year-probation by throwing a prison-themed party. Guests of the star came in their most fashionable orange suits and inmate get-ups in keeping with the party's theme.
CELEBRATING THE END OF HER PROBATION
Among them were "Rickey Smiley Show" host Head Krack, Jermaine, and Da Brat's sister, Lisa Raye. Apart from that, the rapper uploaded a photo of the night's menu – cup noodles.
"Tonight we celebrate the end of [Da Brat] 7 year probation, it's been long and tuff, but it's over!! She is no longer on paper [sic]," wrote Jermaine in the caption of his Instagram post.
Please fill in your e-mail so we can share with you our top stories!