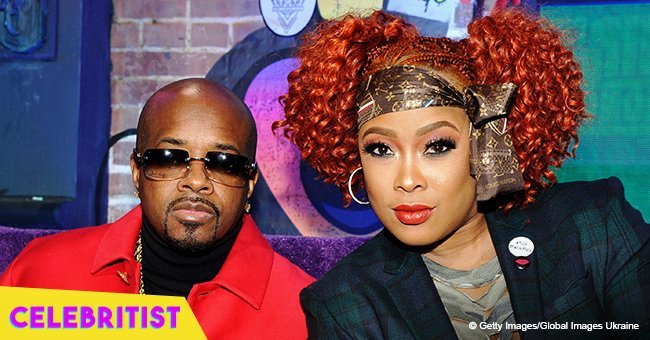 Da Brat throws prison-themed party with Jermaine Dupri & LisaRaye after end of 7-year probation

Da Brat recently ended her 7-year-probation and she celebrated by paying tribute to her days of confinement. She threw a prison-themed bash and even served cup noodles as celebrities donned prison-inspired jumpsuits.
It's the end of Da Brat's 7-year probation which is enough cause for a celebration. And while the rapper served 21 months in prison, she decided the sweetest goodbye would be to have a prison-themed probation party.
Guests of the star came in their most fashionable orange suits and inmate get-ups in keeping with the party's theme. Among them were "Rickey Smiley Show" host Head Krack, Jermaine Dupri, and Da Brat's sister, Lisa Raye.
The star-studded affair was all over Instagram as Da Brat shared photos from the bash.
She even posted a snap of the night's menu – cup noodles, and captioned it "Gourmet."
So So Def founder Jermaine also shared a photo and wrote,
"Tonight we celebrate the end of @sosobrat 7 year probation,it's been long and tuff, but it's over!! She is no longer on paper"
In 2007, the singer born Shawntae Harris was involved in an altercation with Shayla Stevens and at the heat of the moment, she struck the NFL cheerleader on the head with a bottle of champagne. The blow caused severe facial scarring and nerve damage on Stevens who has yet to collect the $6 million Da Brat owes her as a penalty in addition to her prison time and probation.
It's unclear whether the rapper can cough up the money considering she just recently filed for Chapter 11 bankruptcy and still owes the IRS and credit card companies apart from her debt to Stevens. She reportedly has less than $100k worth of assets to her name.
Meanwhile, more prison drama unfolded during Da Brat's end-of-probation bash. Reports reveal So So Def rapper Bow Wow had a meltdown and violently attacked the camera crew of "Growing Up Hip Hop: Atlanta." The rapper reportedly snapped despite being unprovoked and destroyed film equipment while attacking anyone who tried to stop him. Police were called to the scene but no arrest was made.
Please fill in your e-mail so we can share with you our top stories!