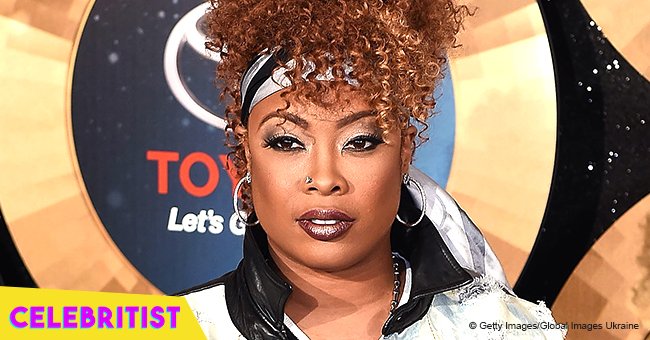 Rapper Da Brat reportedly files for bankruptcy after revealing she's over $7 million in debt
Recent reports confirm Da Brat is over $7 million in debt with only less than $100k worth of assets to her name.
Rapper Da Brat is deep in debt and has filed for Chapter 11 bankruptcy. Reports obtained by The Blast reveal the 'What Chu Like' singer accumulated $7.7 million in debt, most of which she owes to cheerleader Shayla Stevens.
Da Brat, born Shawntae Harris, lost a case filed by Stevens against her after their February 2014 nightclub brawl where Stevens was hit with a bottle by Harris. She reportedly owes her $6.4 million. To add to her debt, the 44-year-old entertainer owes Sony Music over $1.2 million, $12k to Ally Bank, $2.3k to the Georgia Department of Revenue, over $2.2k in credit card debt plus an unknown amount to the IRS.
Harris' known assets total less than $100k. These include three vehicles - a 1999 Mercedes 238i, a BMW 328i, and a Jeep Wrangler, all amounting to $43k, and other assets such as jewelry, electronics, clothing, furniture and household items amounting to $48k. The value of her royalty agreements remains unknown.
The Chicago native reportedly earned $75k this year, $106k in 2017 and $92k in 2016. As an entertainer and radio personality, she has a monthly income of $9,319 and expenses amounting to $10,506 which leaves her short of $1,187 a month.
News of Da Brat's financial woes comes in the heels of Lil Kim's own admission of bankruptcy. The female rapper owned up to a $4 million debt after filing for Chapter 13 bankruptcy in May. The 43-year-old committed to settling her debt in 60 months paying her creditors $5,500 monthly. The singer is also counting on the sales of her new album and proceeds from the sale of her New Jersey mansion to relieve her of some of her liabilities.
Please fill in your e-mail so we can share with you our top stories!