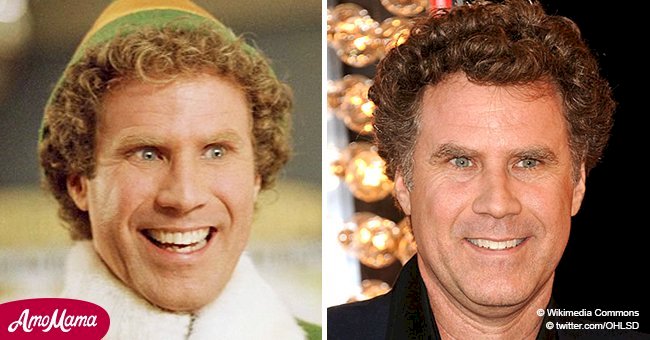 'Elf' Turns 15! See the cast, then and now
On the 15th anniversary of the release of one of the most iconic holiday classic movie, here is a look at what the original cast of the movie is currently doing.
The movie "Elf" starring Will Ferrell, Zooey Deschanel, and James Caan is one of the most watched holiday comedies of all time.
It hit the theaters for the first time in November 2003 but remains a most on-demand movie during the holiday season even today. The movie that stars Ferrell in the titular role of the Elf who leaves the North Pole to find his real father still finds its way to the annual holiday watch-list.
Follow us on Twitter to learn more.
Each of the original cast of the movie left an unforgettable impression upon the viewers of the movie. Here is a list of what these stars are doing years after the release of the film, as presented by People.
1. Will Ferrell
Ferrell played the role of Buddy the Elf and delivered a spectacular performance with his quirky antics and hilarious dialogs.
Today, as a 51-year-old veteran actor in Hollywood, Ferrell continues to deliver brilliant performances and hilarious presentations. His most recent work will come as a reunion with his "Step Brothers" co-star, John C. Reilly in December.
2. Zooey Deschanel
Deschanel played the love interest of Buddy the Elf in the role of Jovie, a blond girl who was a Gimbels employee. She is today more famous for her iconic role of Jess on "New Girl," a series in which she started for seven years.
She is a proud mother of two children with her husband, producer Jacob Pechenik, since 2015. The 38-year-old star will be traveling this Christmas season with her She & Him partner, M. Ward, for select holiday concerts.
3. James Caan
Caan impressed as Walter Hobbs in "Elf," playing the role of Buddy's biological father and a person who is constantly on Santa's 'naughty list.'
Today, he has starred in many other popular TV shows and movies including "Las Vegas," "Magic City," "Back In The Game," and "Get Smart." He is all set to star alongside Rosanna Arquette and Jonathan Rhys Meyers in 2019's "Holy Land."
4. Daniel Tay
Tay starred as Michael Hobbs, the half-brother of Buddy. He has remained out of the limelight for the most part following his stint in "Elf." However, he did appear in "Brooklyn Rules" in 2007 and has been involved in a few voice acting projects.
5. Mary Steenburgen
Steenburgen played the role of a supportive mother in "Elf," who is, at first, shocked about her husband already having a child with another woman before they got married.
Today, Steenburgen is a celebrated actress who has delivered memorable performances on "Curb Your Enthusiasm" and "30 Rock." She also reteamed with Ferrell in "Step Brothers," and most recently appeared in the romantic comedy, "Book Club."
If you enjoyed this list, here is another list of celebrities from the popular show "Girlfriends," and details on what they are doing now.
Please fill in your e-mail so we can share with you our top stories!