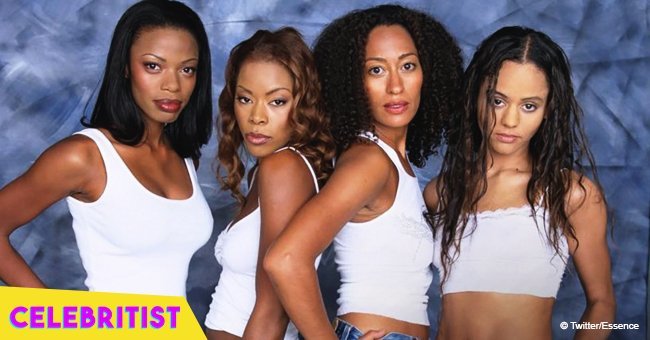 'Girlfriends' cast: then and now
Next month the show will be celebrating its 18th anniversary, and fans are still mad about the abrupt end of the series back in 2008 after eight successful seasons. The women who gave life to the hilarious group of friends are doing amazing these days, but they always remember the series with love.
Back in 2000 "Girlfriends" was the series all girls of color wanted to watch. Everyone felt identified with one of the characters and the situations they had to go through daily on top of the intricate relationships they had with each other.
Created by Mara Brock Akil, the series came to a halt in 2008 without a proper ending, and both fans and the cast have expressed their desire to give the iconic show the final it deserves. On June, Akil revealed she has been trying to take the series to the big screen for years on an episode of ESSENCE's Yes, Girl! Podcast.
"I'm just claiming that the story needs to be told, big, epically, and right," she said. And continued:
"Back in the day I would have done it for $5 million or make a dollar out of 15 cents to tell this story. There's been times where you might get some interest from the studios, but you don't have all the actors, or you have the actors, but you don't have the studio."
On Wednesday, the cast celebrated "Girlfriends Day" by sharing throwback pics of their time on the show, so, to join their celebration, here's a little recap on what each girl has been up to these days.
Tracee Ellis Ross (Joan Carol Clayton)
Perhaps the most successful of the bunch, Tracee, daughter of singer Diana Ross, has become an icon of female empowerment and fashion in the past few years. She's starring on the series "Black-Ish." She won a Golden Globe Award for Best Actress – Television Series Musical or Comedy and has been received two Emmy Awards nominations.
Earlier this year she hosted the American Music Awards, and last month, she had the honor of interviewing former first lady Michelle Obama on the United States Women Summit, a position formerly held by Oprah Winfrey.
Golden Brooks (Maya Denise Wilkes)
After acting in several independent films, Wilkes joined the cast of "Hart of Dixie," from 2012 to 2013. She was later cast as part of the reality show "Hollywood Divas," where she starred from 2014 to 2016. Brooks won a recurrent role on the Starz comedy series, "Blunt Talk" and she's currently giving life to Geraldine Rainwater on "Yellowstone." Next year she's set to appear on the series "I Am the Night," starred by Chris Pine and India Eisley.
Golden has an 8-year-old daughter, Dakota, with longtime boyfriend D.B Woodside.
Persia White (Lynn Ann Searcy)
White is the only one of the girlfriends who has ventured into the music industry. She's the lead vocalist of the industrial rock band XEO3 and released her debut album "Mecca" as a solo artist in 2009. She also ventured into producing with the award-winning documentary "Earthlings," and has been recognized for being an animal rights advocate.
She had a recurrent role on the series "The Vampire Diaries" as Bonnie's mom, where she met husband Joseph Morgan, with whom she tied the knot in 2014.
Jill Marie Jones (Antoinette "Toni" Marie Childs-Garrett)
After "Girlfriends," Jones has appeared on a myriad of series and films. In 2007, she appeared on "The Perfect Holiday," alongside Queen Latifah, Terrence Howard, Morris Chestnut, Rachel True, and Gabrielle Union. In 2013, she earned the role of Cynthia Irving in the supernatural drama series, "Sleepy Hollow."
She also had a recurrent role on the series "Ash vs Evil Dead" and stayed away from the screen for two years until she made a comeback this year with the movie "Craig Ross Jr.'s Monogamy."
"Girlfriends" fans, have you been following these women's careers?
Please fill in your e-mail so we can share with you our top stories!