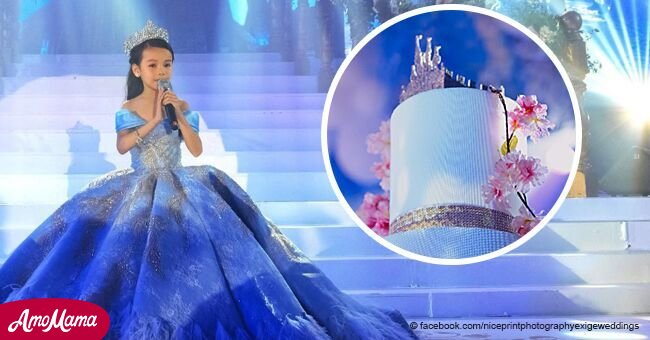 Seven-year-old's birthday party is so luxurious that it sparked people's outrage
Sofia Isabella is the daughter of William Barbo, one of Filipinas' richest and more powerful businessmen, and he gave her a birthday party that not even a child from the royalty could have dreamed of.
The party's photo album posted by Nice Print Photography & Exige Weddings on its Facebook page became a viral phenomenon shared more than 120.000 times and receiving more than 80.000 likes.
The billionaire chose a fairytale-and-princesses theme for the lavish party with an estimated cost of $10 million, and for this, he hired several Filipino "Disney princesses" for his daughter's 300 guests to enjoy.
Sofia wore a blue dress embroidered with silver threads and her princess' tiara was made of diamonds. Her father and her brother wore fine silk and gold suits, while the mother flaunted a custom-designed nude-colored dress.
No detail was neglected in the decoration. The ceiling was adorned with balloons, seasonal flowers and 20 crystal chandeliers and the tables were dressed in silk tablecloths, with silver cutlery and fine tulips in silver vases.
The environment was completed with a large stairway adorned with flowers and the birthday girl's name was written in a big sign on the dance floor.
The celebration began when Sofia descended the stairs of the hall while the fireworks illuminated her entrance and an orchestra played a song that announced the arrival of the star of the evening.
A musical number featuring Disney princesses' in full regalia followed, with the delighted guests singing along to the most famous fantasy animated features' songs.
A fancy birthday cake was a must for such a luxury celebration, and to meet the standards of the entire event, Sofia's was a seven-store-high cake with flowers and silver ornaments that made it resemble a castle.
As beautiful and fun as the huge party appeared to be, several people who commented in social media considered that it was too much for a 7th birthday party and that it didn't teach a good lesson for the girl.
"Talk about overindulging. And no I would never do that for my kids even if I had the money. There is nothing wrong with doing nice things but this is just ridiculous. Maybe teach her how to be a real princess and be benevolent and giving instead of self-seeking," wrote Lorraine Valley.
Others, in turn, defended the family and their right to spend their money however they choose to do it.
"This is their money & their right. They can afford this. So, they did it. We don't have any rights to judge people we don't know well. We never knew whether they are helping hands for those in need or not," wrote Jasmine Naing.
Opinions were way more unanimous when it came to another party that however massive and spectacular was of a very different nature, as it was known to be a 5-year-old terminally ill girl's last birthday party.
Lila May Schowhace's parents weren't millionaires, but when the community of the girl's hometown of Hood River, Oregon, heard about the plans to the greatest party ever for her, they all came together to make it possible.
After spending the last three years of her life battling a merciless cancer in the best of spirits, it was time for this girl to just enjoy as much as she could her final moments with her family, friends and the community.
The local old Butler Banking Building was turned into a princess's castle for one night, and Lila's "angels" took care of everything through donations, including food, music, costumed actors, and a custom-made dress.
Please fill in your e-mail so we can share with you our top stories!