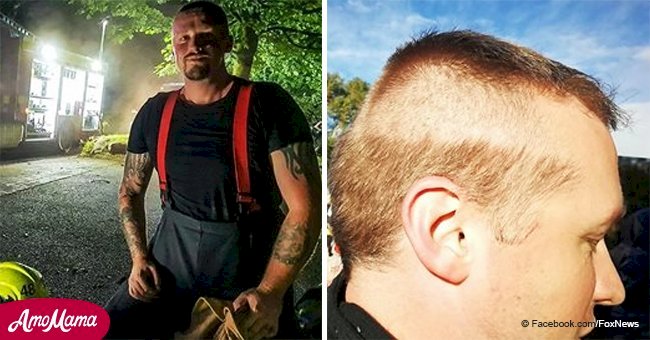 Firefighter left a barber mid-haircut to attend a hay bale blaze
When a firefighter 'cuts his haircut short' to answer his pager and rush to the site of a fire he received mixed reactions.
A firefighter from Buckfastleigh Fire Station in Devon, England had just sat down for a haircut, the hairdresser had started shaving off around the sides when his pager went off.
31-year-old Joe Cartwright had to respond to the call and said:
"It was only five minutes in, she'd just started cutting the sides," he said. "The call was to some bales of hay piled up next to a barn that was smoldering. They get very hot this time of the year and sometimes they self-ignite. I ran out of the barber's with tissue still hanging out of my t-shirt after taking the apron off."
Joe, a student paramedic has also been working as a firefighter for two-and-a-half years, and on call 84 hours a week. After the situation got resolved safely Joe told his colleges what happened and said:
"Some of the older ones thought I was trend-setting and it was some modern new look. When I told them what had happened they said, 'Oh my God I thought you'd just got an unfashionable haircut. My boss just thought it was hilarious, he laughed and laughed. I'll never live it down."
The firefighter then went back to finish the haircut. In a statement, Buckfastleigh Fire Station said:
"To be a retained firefighter takes a certain type of person, to respond to your alerter 24 hours a day, seven days a week takes dedication, stopping what you're doing no matter what. However, leaving a haircut half-way through when your alerter goes off is on another level."
Photos of his unfinished haircut got posted on Facebook and generated messages of support such as 'Well done that firefighter,' and 'Well done buddy! No matter what ppl say.'
Other commenters seemed less impressed by his dedication and included comments such as 'Get your haircut a day you're not on call,' and 'Just book off for half an hour.'
To Joe the comments were hurtful as he replied:
"Some of the comments are upsetting but they are probably from people who are just sitting behind a computer all day. I'm on call 24 hours a day, it is a huge commitment to make but I love it because it's hanging out with your mates and helping people."
There are people that appreciate what members of emergency services do for their community. A waitress in North Brunswick decided to show her appreciation after Tim Young and Paul Hullings from New Jersey walked into the 130 diner in Delran around 6 am where she works.
The two firefighters Tim and Paul had been working for 12 hours in trying to contain a fire in a warehouse, and they were exhausted. Liz Woodward brought them the strong coffee they requested and some breakfast but also overheard them talking about the night they had while fighting the fire.
When they were ready to go and asked for the check the two firefighters got a note instead. In part the note their waitress Liz Woodward gave them read:
"Thank you for all that you do; for serving others and for running into the places everyone else runs away from. No matter your role, you're courageous, brave and strong…Thank you for being bold and badass every day!"
Moved by her show of appreciation Tim decided to share the note on Facebook and also learned that Liz herself needed some help. Her father Steve with quadriplegia had been paralyzed for about five years.
Liz started a GoFundMe page a few months before in order to raise money for a wheelchair accessible vehicle so that her father can go out and about.
Tim wrote another Facebook post and linked the GoFundMe page for Steve which read:
"Turns out, the young lady who gave us a free meal is really the one that could use the help…"
People all over the country responded and her kindness generated generosity to the amount of $70,000 and overshadows the initial goal of $17,000 that was needed to purchase the van.
Liz's appreciation is well grounded, the job of a firefighter is varied and much of what they do can be life-determining. Every situation they encounter is unique, some more than others.
Leicestershire Fire and Rescue Services shared footage of a fire whirl that arose at Ravensbourne Plastics factory on Occupation Lane in Leicestershire. A whirl is created when the heat of a fire rises to the colder air above and where the opposite temperatures combine is where the 'swirl' is created.
At the time the fire started three employees were on duty and thick plumes of dark smoke billowed into the sky. Firefighters worked tirelessly to contain the fire for over 12 hours. No one was injured during the fire and the plastics factory still have to access the full impact of the fire.
Please fill in your e-mail so we can share with you our top stories!