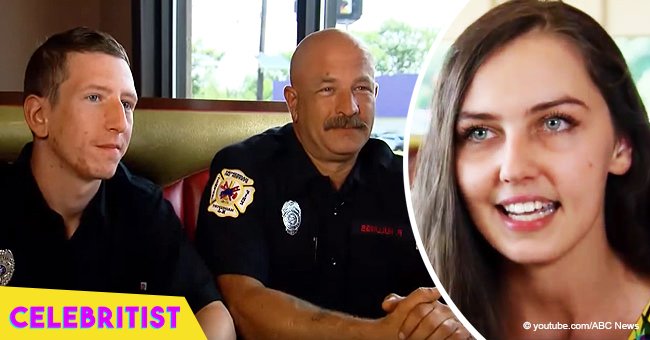 Waitress sees two exhausted firefighters come into her diner & writes them note that goes viral
Two exhausted firefighters were looking for the strongest cup of coffee after a 12 hours shift, and when they asked for the check, a kind waitress surprised them with a note. Her selfless act of kindness led to another, this one favoring her and her father.
Tim Young and Paul Hullings from New Jersey had been fighting to contain a fire in a warehouse in North Brunswick for 12 hours. They were exhausted and looking forward to some breakfast to refill their energies. When they entered the 130 diner in Delran around 6 a.m, they requested their waitress the strongest cup of coffee she had.
The lady, Liz Woodward, overheard the man talking about their night shift and how tiresome the battle against the fire had been. That's when the young lady decided to compensate the men for their hard work.
Eventually, when they went to pay the bill, they received a pleasant surprise. Instead of the check, they got a note with some doodles of an ax and a firefighter helmet. Part of the heartwarming note read:
"Thank you for all that you do; for serving others and for running into the places everyone else runs away from. No matter your role, you're courageous, brave and strong…Thank you for being bold and badass everyday!"
Touched by Liz' act of kindness, Young decided to share the note on Facebook, encouraging their friends to visit the diner and to "tip big" is Liz happened to be their waitress. But he didn't stop there.
THE TABLES TURNED
The firefighter learned that Woodward and her father Steve needed some help.
Steve had quadriplegia and had been paralyzed for around five years. Liz had opened a GoFundMe page a few months earlier to raise money for a wheelchair accessible vehicle so that she could take her father places.
Young decided to return the favor, writing another Facebook and linking the donation page saying "Turns out, the young lady who gave us a free meal is really the one that could use the help…"
Soon, people from all across the country came together to repay Liz for her kindness, raising more than $70,000 and surpassing the original goal of $17,000 that was needed for a wheelchair accessible van.
Overwhelmed by all the love she and her family received, Liz wrote her post saying:
"All I did was pay for their breakfast. I didn't expect anything more than a smile. It goes to show that you just have to be kind to each other and that even the smallest gesture can change a life."
ANOTHER KINDHEARTED WAITRESS
Sarah Hoidahl, from New Hampshire, was working the afternoon shift at Ruby Tuesday in Concord when two soldiers entered the restaurant.
The women explained that they were looking for something cheap to eat because due to a series of administrative issues, they were not being paid. That's when Hoidahl decided she was going to "do a good deed."
Instead of their bill, which amounted $30, the soldiers received a note from the waitress that read:
"Thanks to the government shutdown, the people like you that protect this country are not getting paid. However, I still am. Lunch is on me. Thank you for serving ladies! Have a good day!"
"They were so happy, and that was worth it,' Hoidahl told NECN. "Just seeing the reaction on their face was totally worth it."
Her story even caught the attention of local TV star Ellen De Generes, who invited Sarah to her show and surprised her with an incredible gift.
These type of random act of kindness show that there are still good people in the world, and while some of them became viral for their actions there are thousands that go unnoticed.
Even a small note can make a difference. Putting a smile on a stranger's face might seem like a simple act, but if it helps brightens someone's day, is worth it.
Please fill in your e-mail so we can share with you our top stories!