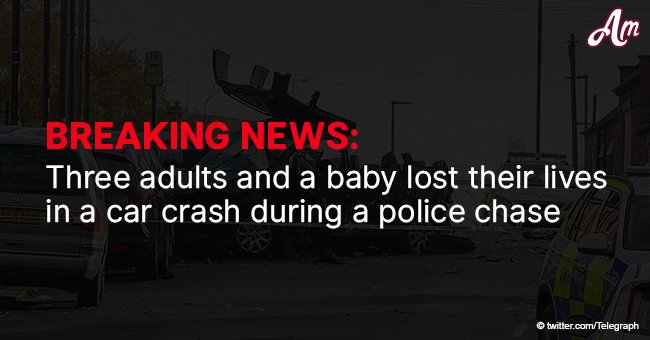 Three adults and a baby lost their lives in a car crash during a police chase

Three adults and a one-year-old baby have lost their lives after a car driven by three young males collided with their vehicle.
The incident took place on Friday night, November 9, 2018, in Sheffield, England. One of the cars involved, a Volkswagen Golf, had been involved in a police pursuit minutes before the crash.
As reported by BBC, aside from the fatal victims, three other passengers were severely injured and one of them, a three-year-old girl, is currently fighting for her life.
Follow us on our Twitter account @amomama_usa to learn more.
The Police refused to reveal the identity of the people involved int he fatal crash, but shared that the three males traveling in the Golf, aged 17, 18 and 23, have all been taken into custody.
They also suffered quite a number of injuries, but not to the point of having to stay in the hospital. The same can't be said for a 22-year-old woman, who is in critical condition.
FOUR LIVES STOLEN
From the Volkswagen Touran, the car that the Golf crashed into, two men aged 35 and 50 perished at the scene, along with a 41-year-old woman and a baby boy.
According to the South Yorkshire Police, it is believed that two families were traveling in the Touran and the Independent Office for Police Conduct has already opened an investigation.
POLICE HAD NOTHING TO DO WITH IT
"This is standard procedure when lives are lost following an incident involving the police. There is no indication that the police vehicle collided with either of the vehicles involved."
Regional Director Miranda Biddle, BBC, November 9, 2018
ANOTHER TRAGIC STORY
Recently, another crash has made the news; a limousine plowed through a stop sign and collided with a parked SUV. Two pedestrians were killed, along with 18 people inside the vehicle.
The 18 victims were on their way to a birthday party at a New York brewery, and there were several young parents, four sisters and two sets of newlyweds among them.
It was later revealed that the vehicle had failed an inspection by the New York State Department of Transporation and, because of that, it wasn't allowed to be on the road.
Please fill in your e-mail so we can share with you our top stories!