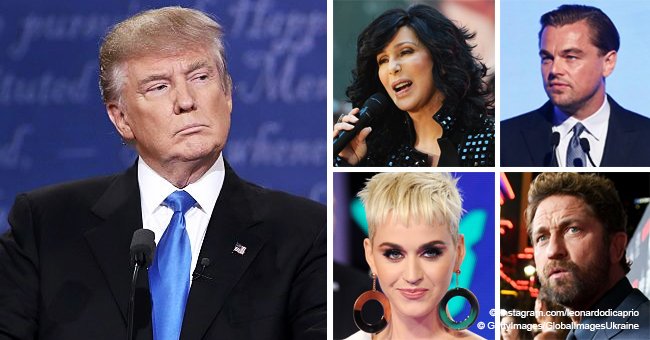 Trump's tweet blaming 'poor management' for California wildfire displeases celebrities
Donald Trump is infamous for saying the wrong things at the wrong times, sparking controversy and this time was no different.
The U.S. President recently unleashed a harsh attack on the state of California, blaming it for the devastating wildfires currently active.
His tweet sparked outrage, not only from those fighting the infernos but from celebrities, with some of them also losing their homes to the flames.
Follow us on our Twitter account @amomama_usa to learn more.
TRUMP'S THREAT
Trump claimed that billions of dollars were wasted every year on the wildfires that take place across California and that it was all due to "gross mismanagement."
The President also threatened to cut all federal funding to the state if something wasn't done to "remedy" the situation, which only served to anger the masses even more.
DEVASTATION CAUSED BY THE FLAMES
Camp Fire, the worst wildfire currently active, as well as the Woolsey Fire, have already killed 31 people and burned over 170,000 acres. There are also 228 people unaccounted for so far.
According to Harold Schaitberger, the president of the International Association of Fire, Trump's comments were "reckless and insulting to the firefighters and people being affected."
Brian K. Rice, president of the California Professional Firefighters told 9 News:
"The President's message attacking California and threatening to withhold aid to the victims of the cataclysmic fires is ill-informed, ill-timed and demeaning to those who are suffering as well as the men and women on the front lines."
HOLLYWOOD'S ELITE
Singer Katy Perry came to the firefighters' defense and described Trump's words as a "heartless response" considering that families are losing their homes and loved ones.
Leonardo DiCaprio argued that helping victims and fire relief effort shouldn't be a partisan issue and argued that the wildfires have increased due to the climate change and "historic drought."
Gerard Butler was one of the people who lost their homes. The actor took to his Instagram account to share a photo of himself standing in front of his destroyed Malibu residence.
He thanked the firefighters for their "courage, spirit and sacrifice."
Please fill in your e-mail so we can share with you our top stories!