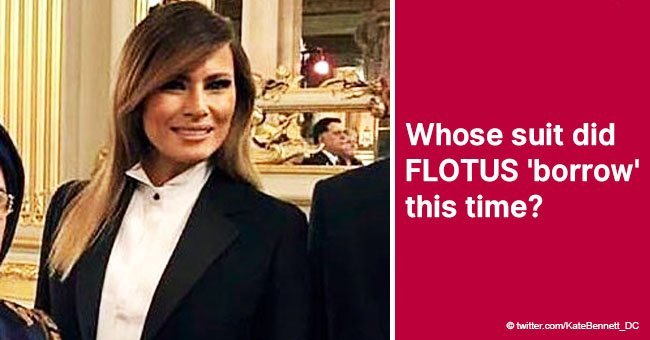 Melania Trump turns heads in an elegant black tuxedo, but fans claim she 'stole' this outfit
Melania Trump is a vision of elegance in a designer Dior at a dinner at the Musee d'Orsay.
First Lady Melania Trump is in France with her husband US President Donald Trump to commemorate the 100th anniversary of the end of World War I.
At a gala dinner at the Musee d'Orsay on November 11, Melania stood out among the bevy of international personalities in a striking tuxedo by the French fashion house, Dior, reported Yahoo.com.
PARISIAN CHIC AT THE MUSEE D'ORSAY
The First Lady did not opt for an evening gown, like every other woman present. Instead, she stepped out in a long-tailed jacket with a white tuxedo shirt, very similar to her husband's tuxedo.
Melania is known for wearing designers of the country she is visiting, in what reporters have called "fashion diplomacy."
MELANIA'S TUX COMPARED TO HOPE HICKS'
Though Melania's elegance garnered universal praise, some accused her of "stealing" the look from the former White House Communications Director Hope Hicks, who was photographed in an eerily similar outfit.
BRIGITTE MACRON AND MELANIA ARE FAST FRIENDS
Brigitte Macron, the French President Emmanuel Macron's wife, has lunch together at Élysée Palace and wore similar outfits. The two first ladies stepped out in matching blue outfits, with a distinctly military flavor as a nod to the 100 years Armistice celebrations.
Macron wore a fitted top and skirt by Louis Vuitton with large gold buttons on the left shoulder, and Melania wore a dark navy-blue coat dress by Bottega Veneta.
ANOTHER VISIT, ANOTHER DRESS BY A FRENCH DESIGNER
Melania stepped out in a shimmering silver evening gown by Chanel. The sparkling dress had spaghetti straps and a cut-away back. The First Lady matched the gown with Louboutin stilettos. Her beauty inspired her husband who said:
"To America's absolutely incredible first lady, thank you for making this an evening we will always cherish and remember. Thank you, Melania."
The French First Lady, Brigitte Macron, looked elegant and sophisticated in a long ivory sheath crisscrossed with chain embroidery.
Please fill in your e-mail so we can share with you our top stories!