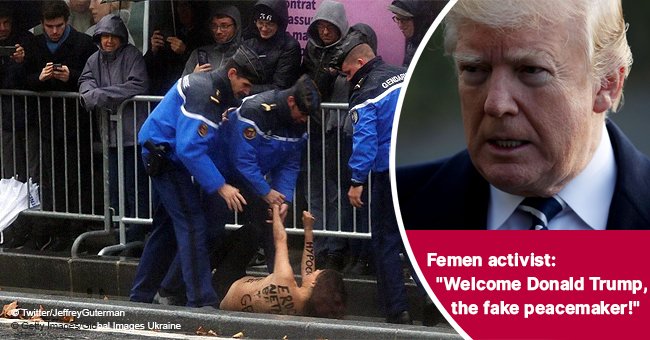 Topless woman caught chasing Trump's cortege during heavy rain in France
A feminist activist used a false identity to bypass security at a huge international ceremony just to disrupt Donald Trump's motorcade.
The woman, a member of the feminist group FEMEN, pretended to be a photographer to breach the security measures and flash the crowd with her topless figure.
As it can be seen in the video that is going viral on social media, the woman, who is yet to be identified, had 'fake peacemaker' written on her chest.
Follow us on our twitter account @amomama_usa to learn more.
With so many security measures in place to prevent anything from disturbing the ceremony, it seems almost unbelievable how easy it was for the protester to approach the motorcade.
It has been reported that legitimate photographers, accredited by the French presidential palace, noticed that the woman didn't belong there and proceeded to alert the proper authorities.
She still managed to take her top off an expose her breasts, which is why she will now face charges of sexual exhibitionism, along with two other activists that were hidden in the crowd.
THE REASON BEHIND THE PROTEST
Three members of security escorted the woman off the road, but Inna Shevchenko, one of the leaders of the group, said they were trying to 'denounced this hypocrisy' of celebrating peace with people such as Trump and Vladimir Putin.
Shevchenko pointed a firm finger at Trump for his 'aggressive attitude toward European leaders and hostile ideas' when it came to multilateral cooperation.
Recently, French President Emmanuel Macron may have shocked Trump after claiming, during a speech, that 'Nationalism is a betrayal of Patriotism,' a month after Trump declared himself a Nationalist.
The remark was made on the past Sunday, November 11, 2018, during a ceremony commemorating the 100th anniversary of the end of World War I. So far, the U.S. President is yet to issue a response to Macron's words.
Please fill in your e-mail so we can share with you our top stories!