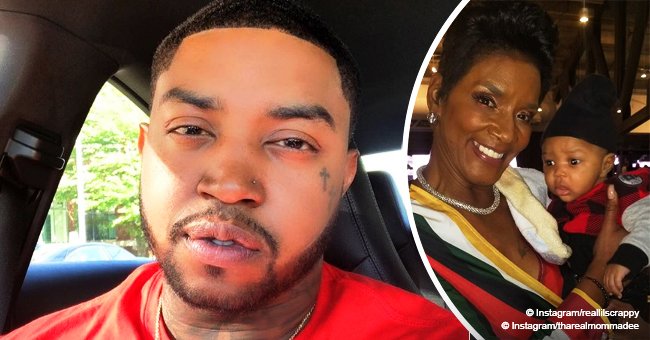 Lil Scrappy's mother Momma Dee holds her baby grandson in adorable new picture
Momma Dee gets all glammed up in her latest photo with her new grandchild who she shares a birthday with.
Months after she danced for joy over the birth of her grandson, Momma Dee gets all "Glam Ma" with him in her latest photo.
Lil Scrappy's mother, Momma Dee was in cloud nine when her new grandchild, Breland, was born on the same day as her birthday. Celebrating the occasion, she broke into dance with her husband, Ernest Bryant, to the tune of Drake's "In My Feelings."
The ecstatic grandmother likewise posted a photo of a onesie on her Instagram to announce the birth of baby Breland.
"The prince has arrived," she says, revealing Breland's weight and length before announcing he was born on "the queens birthday."
PROUD "GLAM MA"
Momma Dee has seen it all. The "Love & Hip Hop Atlanta Star" has gone from a licensed nurse to a pimp to a drug dealer but she especially delights in being a grandmother. Her latest post is a testament to how proud she is to be one. She shared a photo where she's all glammed up and proudly showing Breland off. She simply captioned the post "Glam Ma" but her smile gives away her abounding joy.
GOING TOO FAR
Dee went all out preparing for Breland's arrival. In fact, she may have gone a little too far when she attempted to renovate Scrappy's home without his permission to accommodate his upcoming baby. One day, she invaded the home and started baby proofing it, painting and building a nursery to the dismay of her son and his wife, Bambi Benson.
HER OTHER GRANDCHILD
Momma Dee is also a grandmother to Scrappy's older daughter, Emani Richardson from his previous marriage to Erika Dixon. Emani is now a young lady who's bound to steal hearts and keep her father on his toes. Her mother recently shared a photo of her revealing she's no longer a tomboy. Fans couldn't help but notice her resemblance to her mother too.
MOMMA'S BOY
More than a grandmother, Momma Dee is first and foremost a mother to her children. When Scrappy was in the hospital after a car crash, she went on nurse mode to take care of him. A video shared by her son revealed the concerned mother assisting another nurse in wheeling Scrappy into his room. The rapper was grateful to his mother for her help which aided in making him feel better.
It's safe to say Scrappy can always rely on her mother to be there for him and his family.
Please fill in your e-mail so we can share with you our top stories!