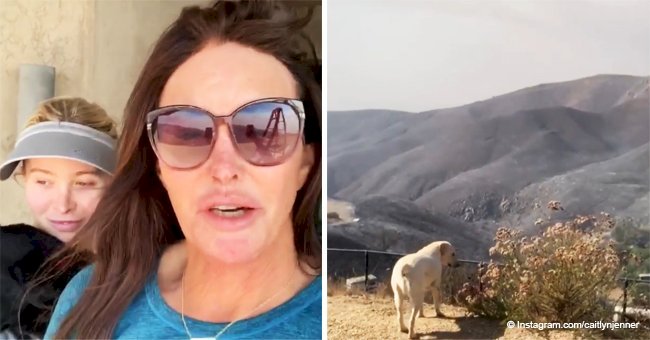 Caitlyn Jenner shares dramatic video of devastation surrounding her house after the wildfires
Caitlyn Jenner and Sophia Hutchins took to Instagram to give fans a raw update in California. Their situation was bittersweet.
Thankfully, Jenner's house was spared from the many fires that left her surroundings scorched. She uploaded a video of her and her close friend. The clip is found below.
"We finally made it back to the house. Sophia is here... our house made it," the "I Am Cait" star said.
The update brought relief after fans had heard that the house was destroyed like many others.
Jenner, 69, stood outside wearing a pair of sunglasses. Hutchins stood behind her with a visor cap on holding one of their dogs.
"It was devastating out here in Malibu. You can see the hills are just totally scorched. Fried, to say the least," Jenner said.
She panned the camera around and black hills came into sight. Hutchins, 22, added:
"We're thinking of everyone and praying for everyone. Hoping you're all safe with your loved ones."
Jenner's followers received an initial update on Friday. According to People, she and Hutchins both posted videos confirming their safe evacuation together.
Jenner, who also mentioned her dogs being safe and playing in and around the swimming pool, said:
"[They're] having a good day — I don't think we're having that good of day."
While Hutchins said in her video:
"I just wanna let everyone know we made it out. Both of us made it out, the dogs made it out, a few of our belongings made it out and we are safe and that that is all that matters. We are safe."
The pair acknowledged how lucky they were in being able to return to the house. Jenner built the 3,500 square foot, 4-bedroom home in 2015.
The Woolsey Fire has so far covered 91,572 with its rage. 25 percent of it has reportedly now been contained.
Jenner, who is a transgender woman, recently revoked her support for the President following a leaked memo.
At first, Jenner believed Trump would make changes which would work in favor of the LGBTQ community. But she said that over time, her "outlook has changed significantly."
The memo revealed that President Donald Trump's administration is looking to legally define a person's gender based on what genitalia he or she was born with.
With that, Jenner said she realizes "that the trans community is being relentlessly attacked by this president."
She ended her essay by saying she will continue raising awareness of issues and that "[trans people] will not be erased."
Amid the fires, many other celebrities are responding to a tweet that Trump sent out on Friday. In it, the President blamed the recent fires on "gross mismanagement of the forests." He then threatened to retract federal payments to the state.
Leonardo DiCaprio tweeted a response saying that "helping victims and fire relief efforts in our state should not be a partisan issue." He attributed the disaster to climate change and drought.
Katy Perry described Trump's words as "heartless." She said it's not about politics, just "good American families losing their homes."
One such family was Gerard Butler. He posted a photo to Instagram standing in front of his ruined Malibu residence. He went on to thank the firefighters for their "courage, spirit, and sacrifice."
Please fill in your e-mail so we can share with you our top stories!