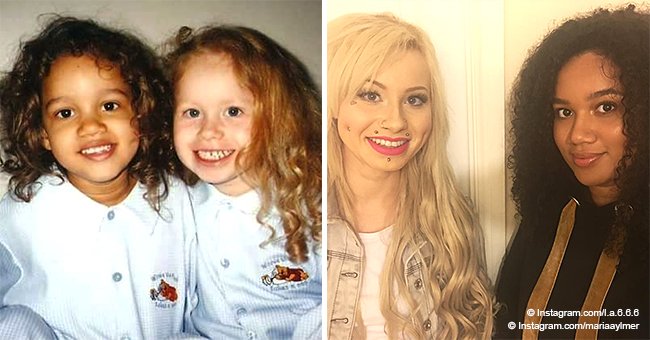 World famous twins born with different skin colors are now 21
Lucy and Maria Aylmer couldn't be more different. One has a fair complexion and straight ginger hair, and the other has brown skin and curly brown hair. They couldn't even pass as siblings, but the truth is they are fraternal twins.
The girls are now 21, and is safe to assume they gave their parents the surprise of their life when they were born. Their father Vince is white, and their mother, Donna, is half Jamaican. However, all their other kids are biracial, so they could have never guessed they would produce such strange twins
While their siblings have light brown skin and hair, Lucy and Maria inherited the extremes opposites features of each parent.
The girls, born in Gloucester, talked to the Daily Mail a few years ago to recount their experience growing up as twins that don't look alike. Lucy, the ginger one, revealed that her mother was in shock when she was handed her newborn babies after childbirth.
"It was such a shock for her because things like skin color don't show up on scans before birth. So she had no idea that we were so different. When the midwife handed us both to her, she was just speechless."
FACING BULLYING FOR BEING DIFFERENT
The twins' parents divorced when they were still kids, but up to this day, the ex-couple maintains a friendly relationship for the sake of their kids.
As they were growing up, Lucy and Maria often faced incredulous people who couldn't believe they were twins, and some even went as far as asking for proof of their bond. "No one ever believes we are twins. Even when we dress alike, we still don't look like sisters, let alone twins. Friends have even made us produce our birth certificates to prove it," said Lucy.
Lucy used to be bullied in school for being the "white Aylmer." She was told she was adopted, and people called her "ghost girl." That situation shaped her personality and turned her a shy, reserved girl, unlike her sister Maria, who's more easy going and extroverted.
DIFFERENCES THAT GO BEYOND APPEARANCE
Maria and Lucy not only are different on the outside but they also extremely opposite personalities that reflect on their styles.
While Maria loves to dress in a chic style and is more girly, Lucy prefers punk clothing and even has perforations on her face. Lucy studied art and design at Gloucester College, while Maria studied law at Cheltenham College.
The girls live in London, and even though each one is busy with their life, they still maintain a strong bond.
BLACK PARENTS WELCOME ALBINO TWINS
On a similar case of a family with a striking visual difference, Christin and Russell Lewis from Newark, New Jersey, are a black couple that welcomed a pair of albino twins two years ago.
Albinism is characterized by little or no melanin production in the skin, hair, and eyes. It affects only one in 18,000 Americans and is even rarer in twins.
The siblings, now 2-year-old, also have some differences among them. While Nolan has platinum hair, his sister Savannah has ginger hair.
Their parents often get mean comments on the street from people who accuse Christin of cheating on her husband or using a surrogate. "I want to make a public service announcement: we are faithful, we did not cheat on each other, and we did not use surrogates," she told Daily Mail. "I carried these babies for nine months."
Christin and Russell to homeschool the kids, as they fear they would get bullied at school for their different looks.
"They don't know that they are different at all. They like to sing and dance. They are loved. They are always smiling," the mom said. "They are just regular little babies."
"People look at them, and they can't believe they are black kids with white skin. But I shrug my shoulders. I think they are beautiful and I wouldn't change them in any way. I want them to embrace their differences, not shy away from them."
Christin and Russell said they're determined to teach their kids to embrace their appearance and love themselves.
Please fill in your e-mail so we can share with you our top stories!