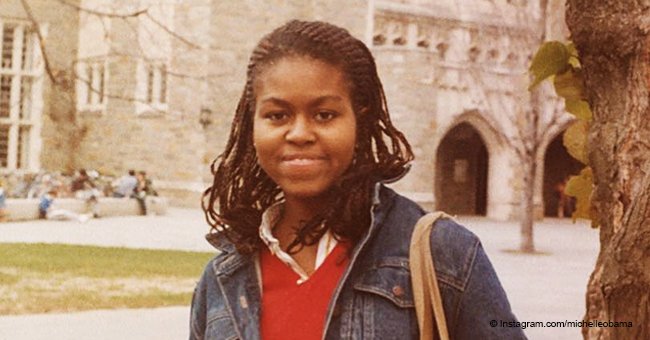 Michelle Obama felt like an 'anomaly' when assigned roommate's mum became furious she was black
The former First Lady of the United States wrote a memoir titled "Becoming."
In it, she opened up about how a college friend's mother was "horrified" when she found out her daughter's roommate at Princeton was Black.
Read more on our Twitter account, @amomama_usa. Details about the book can be found below.
Michelle added that her roommate was a nice person and that she moved out of their shared dorm because her mother was uncomfortable with the situation. She added:
"All I knew at the time is that midway through our freshman year, Cathy moved out of our triple and into a single room. I'm happy to say that I had no idea why."
Even as the first lady of the United States, Michelle still had to endure racist remarks hurled her way every so often.
Her experience proved that titles like 'President' and 'First Lady' isn't necessarily a way for people of color to escape racism. Michelle still had to tolerate many racist remarks.
One such example was being referred to as "an ape in heels" by Pamela Ramsay Taylor. And it's not isolated cases either.
The Equal Employment Opportunity Commission receives up to 30,000 charges every year 'of race-based discrimination' in the workplace.
Michelle shares other examples as well, such as her first serious relationship with a man named David, whom she met a bookbinding company.
Back in 2016, her husband, then the President of the United States, said in an interview which one of his neighbors refused to take the elevator with him.
He was visiting his grandparents, and he had known the neighbor in passing and thought that she recognized him from all the times he visited his family.
But on that particular day, she hesitated to get into the elevator with him. He was confused and asked her if she was going up. She replied now.
When Obama reached his grandparents' floor, he noticed the woman did go up, she just waiting for the next elevator so she wouldn't have to share the carriage with him.
He said she was "just worried about riding with [him] in the elevator" and added:
"Over time you start learning as you're crossing the street, suddenly the locks start going on doors."
White America today is quick to say that racism doesn't exist anymore and that Black citizens are treated as equals but all these stories of who white citizens behave prove otherwise.
Please fill in your e-mail so we can share with you our top stories!