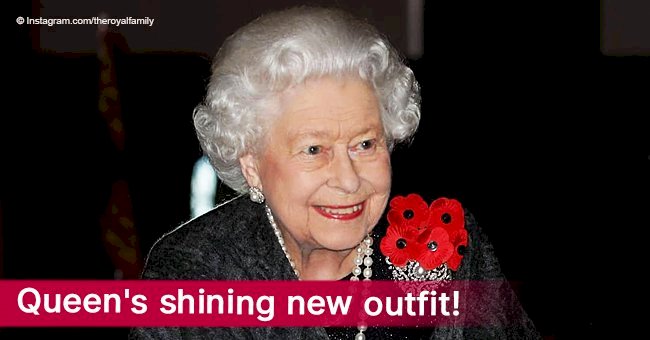 Queen turns heads in a black glittering dress and chic shawl as she shows off her new radiant look
The Queen stepped out in style during the weekend's commemorative events for Remembrance Day.
During the weekend past, the fallen from World War I got commemorated in London. The royal family partook in a trio of events marking Remembrance Day which started of with the Festival of Remembrance on Saturday.
The Queen looked beautiful in a glittering black dress with a grey shawl draped over her shoulders with a gorgeous diamond and pearl brooch used to pin five poppies to her left shoulder.
At the Cenotaph on Sunday morning the Queen wore a black coat with the poppies pinned to her chest by a different diamond brooch. The Queen opted for a stunning regal purple overcoat for the evening's Centenary of Armistice service, causing the poppies she had been wearing the entire weekend to stand out more.
Absent from commemorative events for the first time this year was 97-year-old Prince Philip. Earlier during the week, a Buckingham Palace spokeswoman confirmed that Prince Philip was not expected to attend.
Prince Philip had been keeping a low profile since his retirement from public life in August 2017 and indulge his love for carriage riding as often as possible.
With his absence from Sunday's ceremony at the Cenotaph war memorial an equerry laid a tribute on Prince Philip's behalf instead. The royal woman watched from different balconies at proceedings down below. Meghan Markle joined the German president's wife Elke Budenbender while the Queen, Kate Middleton and the Dutchess of Cornwall shared a balcony.
Speculation abound as not only the Queen but also Kate Middleton and the Dutchess of Cornwall wore more than one poppy during the weekend.
In the opinion of some each flower represent a branch of service; army, navy, air force, civil defense, and women. Other theories may suggest that it's a single corsage consisting of five poppies, and not individual pins, while others believe it's because the Queen is the most senior dignitary and her poppies should be more visible.
Either way, commemorating the lives lost of those who served their country is a matter the royal family takes seriously, Perhaps it makes one think of your own mortality. It does not matter who you are; you are human just like everyone else.
Rarely does one see the Queen in a position where she seems anything but royal in all regards, however when she met with then-First Lady Michelle Obama nine years ago, a relatable conversation between the two ladies about shoes can tug at one's perception of the Queen.
Michelle Obama wrote in her memoir:
"I confessed then to the Queen that my feet were hurting. She confessed that hers hurt, too. We looked at each other than with identical expressions, like, When is all this standing around with world leaders going to finally wrap up? And with this, she busted out with a fully charming laugh."
"Just two tired ladies oppressed by our shoes."
If the Queen felt oppressed by her shoes on Saturday, she did not show it as she looked beautiful smiling in her glittering black dress.
Please fill in your e-mail so we can share with you our top stories!