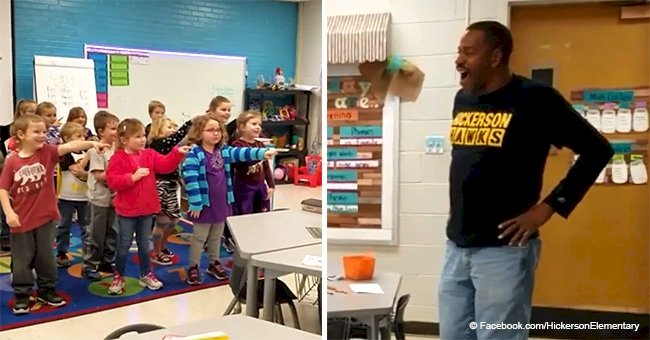 Deaf custodian wipes tears from his eyes as kindergarteners 'sing' 'Happy Birthday' to him (video)

A deaf custodian was left in tears after a group of kindergarten students learned how to sign the "Happy Birthday" song for him on his 60th birthday.
In Tullahoma, Tennessee, a PWD named James Anthony has been working at the Hickerson Elementary School as a custodian for many years. Now that he turned 60, the school community made sure to show him some love and appreciation by teaching their students how to sign the "Happy Birthday" song which they later used to surprise him with the beautiful tribute.
When James Anthony walked into a classroom, he was shocked to see students ready to greet him for his birthday. According to the school's principal who spoke to ABC News 7 about the incident, Anthony, who is known as Mr. James to students, has worked in the school for 15 years.
The school staff was able to film the heartwarming moment between Mr. James and the students, and the video has since then gone viral on social media.
According to the interview made by the school principal, a school nurse and a group of teachers were responsible for teaching the students how to sign the song.
As for how Anthony felt about the whole ordeal, he said that he was very touched by the performance, and it even brought him to tears.
Often times, people with disabilities are overlooked, and this makes them feel neglected or out of place in society. That is why when simple gestures such as these are done to show appreciation and love for them, it means all the world to them.
A simple gesture by the students has brought tears of joy into the eyes of the custodian, and simple acts of kindness such as these should be done more often, as it would definitely make the world a better place.
Please fill in your e-mail so we can share with you our top stories!