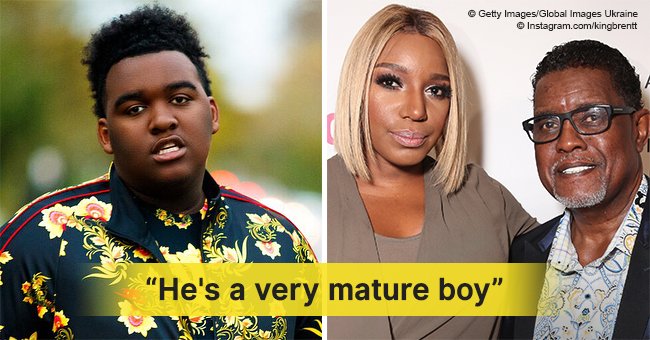 NeNe Leakes reveals how her son Brentt is dealing with dad Gregg's cancer
NeNe Leakes reveals one thing her son Brentt hasn't done since learning about his father's illness.
Fans are learning more and more about the repercussions of the cancer ordeal NeNe and Gregg Leakes have been going through in the current season of "Real Housewives of Atlanta." Since Gregg's diagnosis in May, NeNe now reveals it's been a tough journey for the family though she's pretty sure their son Brentt is taking things in stride.
THE ONE THING BRENTT HASN'T DONE
Speaking to Daily Dish last week, NeNe admits their 19-year-old hasn't cried since learning of Gregg's illness. But she also thinks that's not such a bad thing.
"We have a 19-year-old and he has not cried one time that I know of, unless he's cried by himself. And I'm not concerned; he is a strong teenager. He's a very mature boy, so I feel like I was a little concerned at first — like he hasn't cried or anything, is that a problem? But I think it's OK. I think they're doing good."
HARD TIMES
What NeNe is more concerned about is how their lives have completely changed since discovering Gregg had stage three colon cancer in May. Nene says it's been "a roller coaster ride."
"It was just hard. It's hard on him. It's hard on me. It's hard on our entire family. It's hard being a caretaker. It's hard being a patient. It's a lot of decisions you have to make, so it definitely has not been easy. It's been probably the hardest thing — it really takes over."
THE DAY THEY DISCOVERED GREGG HAD CANCER
It was Cinco de Mayo when NeNe rushed Gregg to the hospital because he was suffering from severe pain. NeNe recounted this story in a recent episode of "RHOA."
"Gregg was in excruciating pain. Like, I've never seen him say, 'I'm hurting so bad, the pain is so bad in my stomach.' And finally he said to me, 'Take me to the hospital.'"
The couple would later learn that Gregg had cancer and it required immediate surgery.
"We just weren't prepared to hear that."
"I guess the scariest part about all of this is when we got to the hospital and the doctor saying that we need to do surgery on you tonight or you ain't going to make it."
GREGG FACES DEATH
Gregg admitted that at that point, he was prepared to face death. In fact, he revealed he wrote a letter for NeNe and entrusted it to his doctor in case he didn't survive the operation.
But he survived the operation and this motivated Gregg to beat his illness.
"You never know what's in you until you at that door. I never thought I had it in me to fight cancer. Now, I want to beat cancer's ass."
GOOD NEWS
Just recently, NeNe shared that Gregg's latest PET scan showed no signs of cancer. She also said they're currently deciding on their next steps – chemo or holistic medicine to kill the remaining cancer cells that may still be in Gregg's system. This is good news for NeNe who also admitted feeling like she lost her husband dealing with his illness. She said she would often pray for her husband to return "because I do not have a partner right now." Despite this, the couple remains united in their fight against Gregg's disease. NeNe is confident that her husband already beat cancer.
Please fill in your e-mail so we can share with you our top stories!