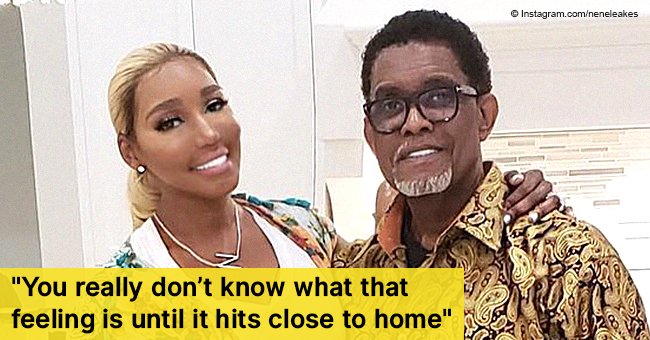 NeNe Leakes gives health update & reveals how husband Gregg's cancer has affected their marriage
NeNe Leakes sat down with Hollywood Life to share an update about her husband's health and how his cancer battle put a toll on their marriage.
Months after learning about her husband, Gregg Leakes' cancer, NeNe Leakes reveals he's in better health now. She also admits it was tough for the family all these months.
A BIT OF GOOD NEWS
Sitting down with Hollywood Life for an exclusive interview, NeNe proudly revealed that her husband is doing "really well." She said Greg's latest PET scan showed he was cancer-free but "there's probably cells floating around in his bloodstream."
Greg is currently trying to figure out his best option to eradicate the disease completely. According to NeNe,
"Right now he's in a place trying to decide if he wants to do chemo or holistic or doing them together."
TOUGH TIMES
Though NeNe 's latest update is positive, she also spoke about how tough it was for the family and her marriage dealing with Gregg's illness.
"It definitely does affect the whole family," she says.
"You really don't know what that feeling is until it hits close to home. It's been so hard on Gregg and I's marriage."
She also said Gregg had days when he would cry out of frustration but he would always find the strength to conquer his illness.
"Gregg has had those days when he's sat at home, crying, but you've got to continue to live when you feel like it.
"I feel like personally, Gregg has already beat cancer. I mean, he has. He looks amazing and he's lost a lot of weight. He's changed his diet. He's plant-based."
SEPARATE BEDROOMS
In a separate interview with US Weekly, NeNe detailed the ups and downs of their journey fighting Gregg's cancer.
"I mean, it's been like a roller coaster. There are days where we have good days and Gregg has good days, then we have bad days and, you know, I feel alone, he feels alone. Because, you know, he sleeps downstairs, I sleep upstairs, out of all the years we've ever been together, we've never done that before."
NeNe explains it was Gregg's decision to split bedrooms. He was concerned his exposure to radiation would affect his wife.
She also confessed she felt like she lost her husband the day they found out he had cancer.
"I prayed so many nights just please give me back my husband because I do not have a partner right now."
THEIR NEW NORMAL
NeNe broke the news of Gregg's condition in June through an Instagram post. She shared a photo of her husband sitting on a chair in the doctor's office looking glum.
"Our New Normal and the fight begins," she wrote.
Though she didn't directly state that Gregg had cancer, the computer screen beside Gregg clued in on it. It had the word cancer spelled out in big bold letters with a red line slashed across it.
READY TO FACE DEATH
It was only during the season 11 premiere of "Real Housewives of Atlanta" early this month when NeNe revealed Gregg was diagnosed with stage three colon cancer. The diagnosis came after Gregg was rushed to the hospital in May due to severe pain. Doctors were forced to perform immediate surgery. At the time, Gregg was ready to face death. He even wrote a letter for NeNe which he entrusted to his doctor in the event that he wouldn't survive the operation.
Luckily for Gregg, he survived and he's now on the road to recovery.
Please fill in your e-mail so we can share with you our top stories!