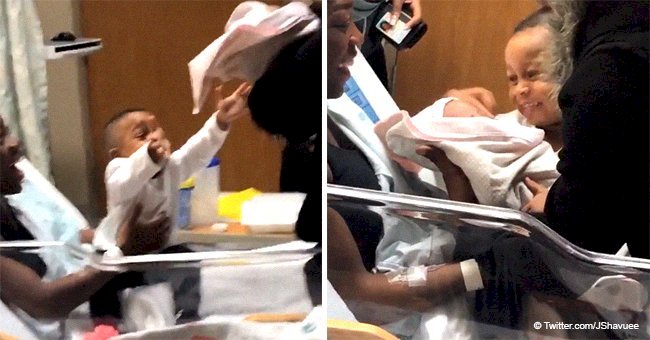 Heartwarming video of big brother seeing his newborn sister for the 1st time goes viral
For many parents welcoming a baby, there's the anxiety over how their older child will receive the infant. One big brother's heartwarming reaction to his new sister was caught on camera.
A young boy recently met his baby sister for the first time and what he did is melting hearts all over social media. On Sunday, a Twitter user posted a 57-second video showing the little man on the hospital bed with his mom.
He still has a sippy cup and appears to be no older than a toddler, but when someone starts to lift his baby sister out of her hospital bassinet, the big brother's face breaks out in a smile.
"My sissy!" he yelled excitedly, almost bouncing off his mother's lap.
He then stretches out both hands to hold the wrapped infant. He doesn't stop grinning throughout the video and even places one or two kisses on his new sibling. There's no doubt this little man will be the best big brother ever.
MAKING MOMMY CRY
The new mom could not help getting emotional, and she kept dabbing away tears as she watched her two children. Other people in the hospital room can also be heard going "Aww" at the cute scene.
It didn't take long for the video to go viral, and it now has almost 6 million views and over 100,000 retweets.
MAKING THE INTERNET CRY
Social media users could not hide their love for the adorable sibling moment. The clip encouraged other Twitter users to share their older-sibling-meets-new-baby photos while many expressed their emotions in the comments.
"How dare you????? I'm publicly crying???? Omg."
"Look at how proud he is!!! He is too beautiful... Pass me every tissue in this building pls, thanks"
"Anyone have a heart? Cause mine just melted. Gone."
A TOUCH OF OVERPROTECTIVENESS
There's nothing like seeing the instant love between two siblings, and for little Henley who went viral a few months back, that love came with a touch of overprotectiveness.
Henley became a big sister for the first time when her mother delivered baby Peyton. Before long, Henley was snuggling with the infant in her hospital bassinet, and when their grandma tried to take her sister, Henley wouldn't have it.
She shook her head consistently until they got the message: Henley's in charge!
"IT'S OKAY. YOU'RE STWONG!"
Earlier this month, we also shared the heartwarming story of another boy who qualifies for the "Best Big Brother" Award. A viral video showed the young man motivating his little sister and helping her score a basket.
The cutest moment came when he told the girl:
"It's okay. You're stwong [strong]"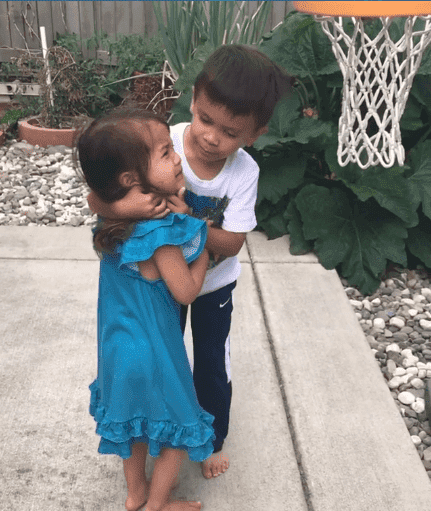 Instagram/Sarahanne Mora (Welch)
Read more and see the emotional video here.
Please fill in your e-mail so we can share with you our top stories!