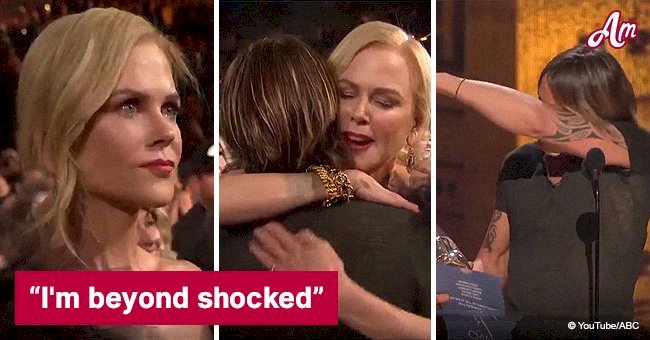 CMA win brought Keith Urban and Nicole Kidman to tears
Keith Urban picked up the Entertainer of the Year Award last night. Both he and wife Nicole Kidman got emotional about the big win at the Country Music Association Awards.
The "Coming Home" singer and his wife were stunned when Urban was announced as the winner. According to the Daily Mail, over a decade has passed from the first time he won back in 2005.
A year later in 2006, Urban married Kidman and they welcomed two children together in the following years. The country star thanked his wife and kids as he collected his award. The video is found below.
Earlier in the night, the 51-year-old performed a few of his hits for the audience. First, he shared the stage with Ricky Skaggs, a recent Hall of Fame inductee.
The pair sang "Highway 40 Blues" with Urban's band Kentucky Thunder. Then Urban stole the show with a performance of "Never Coming Down."
While he performed, wife Kidman danced and sang along to her beloved's 2018 hit single. He also encouraged the crowd to get on their feet.
After the big announcement, the couple both became teary-eyed. Urban began his acceptance speech by thanking Kidman, who he affectionately calls his "baby girl":
"Baby girl, I love you so much. I'm beyond shocked. Everyone at home, Faith, and Munchkin, I love you. Thank you for supporting Daddy and loving me through all of what I do, same with you, baby girl, for making it worthwhile."
As Kidman looked on proudly, he went on:
"I have so many people to thank, I wish I had more time to do it right now. "The fans who are phenomenal, country radio, everybody who voted for this, thank you so much... above all, just God, I thank you for the blessings of this. I wish my dad was alive to see this, but he's watching over me tonight. And I just feel very, very blessed and very grateful that I get to do what I do. Thank you, all of you, for coming out and god bless country music. God bless you all."
Just last week, Urban spoke to ET about the significance of the award:
"Entertainer is obviously an incredible category and playing live, I've been doing that more than anything in my life. I mean, I was playing live before I wrote songs. I wasn't making records [yet], that was all ahead of me. So playing live is the foundation of so much who I am and what I do."
"[I've been] trying to put on better and better tours and concerts every year, [so to] end up with the Entertainer nod is incredible."
The win comes three weeks after Urban celebrated his birthday in October. Kidman sent out a sweet post on Instagram to celebrate the special day.
"You're so loved," she said in the post. It featured a photo of her kissing Urban's cheek in front of what looked like a half-eaten chocolate cake.
At the time, Kidman was unable to be next to her husband. He was in Hersey, Pennsylvania for a concert. But last night, the "Pretty Little Lies" actress was more than supportive as she shared in his joy.
Please fill in your e-mail so we can share with you our top stories!