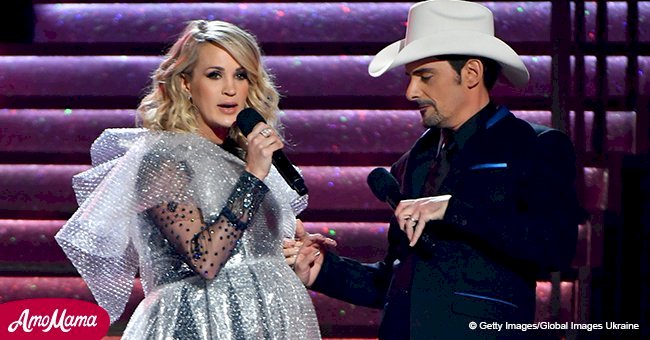 Brad Paisley gifts Carrie Underwood a bizarre bubble wrap dress after her 'really bad fall'
Last year, Carrie Underwood took a fall that led to about 40 stitches. This year, Brad Paisley's got her covered, quite literally.
The pair of country singers returned as co-hosts for the 2018 Country Music Association Awards on Tuesday. They first received some praise for thwarting politics.
Then to get things started between the two, Paisley presented Underwood with an accident-proof outfit. A clip of the event is found below.
"Last year, I don't know if you all heard, but two days after last year's show, she took a really bad fall."
"So tonight that's not gonna happen again. Not on my watch! Put this on."
But Underwood quickly replied:
"Yeah, I'm not gonna wear this."
The 35-year-old later came out wearing a bubble-wrap dress over her real ensemble. As Paisley comically popped some bubbles on the dress, the "Cry Pretty" singer acted annoyed.
It's been a year since the accident happened in November of 2017. Underwood was about to take her dogs for a walk when she fell on her stairs at home. She got a broken wrist and around 40 stitches.
At the time, Underwood was seriously affected by the fall. She remained lowkey for months after. Fans were undoubtedly relieved to see the beloved star make light of the incident.
Back in May 2018, Underwood revealed that she was unsure how she would come out of the situation.
Speaking to Today's Hoda Kotb, she said:
"In the beginning, I feel like I didn't know how things were gonna end up. It just wasn't pretty."
Immediately following the fall, Underwood went through the ordeal alone. It was only later that husband Mike Fisher could join her. He flew into Nashville as soon as he could.
Although fans cannot discern a change in the singer's face, Underwood said she's "not quite looking the same."
She credited her looks to her "dedicated team of professionals who can spackle and paint and paste."
"I'm feeling, every day, I feel a little more back to normal."
Source: YouTube/ Entertainment Tonight
In a recent September interview, Underwood revealed that her "normal" can be devastating at times.
The expecting mother spoke to Tracy Smith about three miscarriages she went through in the past two years.
She became emotional when she spoke about her song "Cry Pretty."
"It speaks to a lot of things that have happened in this past year."
Throughout her trying times, Underwood was forced to put on a happy face for the public. But behind the scenes, her heart was breaking.
One night, she said she "was just sobbing." On her fourth pregnancy, she angrily asked God why she kept getting pregnant when she wasn't meant to have another child. She thought the result would be the same as before.
But this time, it was "perfect" according to doctors. And with regards to her need for bubble wrap, Underwood seems to be less prone to accidents.
Please fill in your e-mail so we can share with you our top stories!