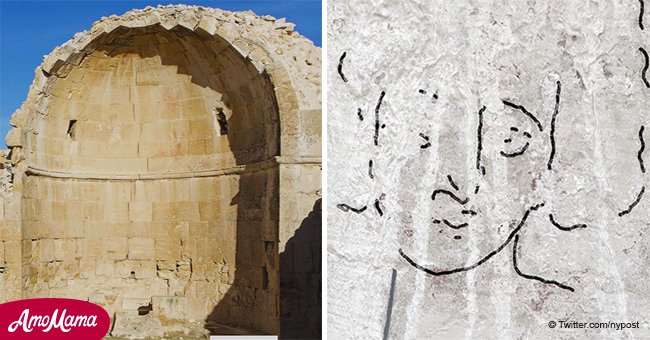 'Jesus' face is uncovered at an ancient church in the Israeli desert
One of the oldest paintings of Jesus Christ was found on the wall of an abandoned church in the Israeli desert.
The portrait - dating back 1,500 years - was spotted by archaeologists in a Byzantine church in the Negev desert of Israel recently.
As reported by Haaretz, art historian Emma Maayan-Fanar said, "His face is right there, looking at us."
The holy art was first discovered in the 1920s. However, it wasn't until the previous couple of years that any endeavor was made to see what lay beneath centuries of dirt, according to Fox News.
Follow us on our Twitter account, @amomama_usa, to learn more.
The painting was uncommonly high up on the church wall, said Maayan-Fanar.
She added that she had visited the site several times without seeing what was under dirt that had accumulated over the ages.
"I was there at the right time, at the right place with the right angle of light and, suddenly, I saw eyes," Maayan-Fanar said. "It was the face of Jesus at his baptism, looking at us."
The artistic creation portrays Jesus as a young fellow with short, curly hair next to a lot bigger picture, believed to be John the Baptist.
Maayan-Fanar and her group wrote in their paper that Jesus' face "in this painting is an important discovery in itself."
"It belongs to the iconographic scheme of a short-haired Christ, which was especially widespread in Egypt and Syro-Palestine, but gone from later Byzantine art."
Maayan-Fanar said that illustrations of Jesus in Rome as late as the fourth century indicate Jesus with short hair.
Experts have said, "The discovery of this painting is extremely important. Thus far, it is the only in situ baptism-of-Christ scene to date confidently to the pre-iconoclastic Holy Land. Therefore, it can illuminate Byzantine Shivta's Christian community and Early Christian art across the region."
Please fill in your e-mail so we can share with you our top stories!