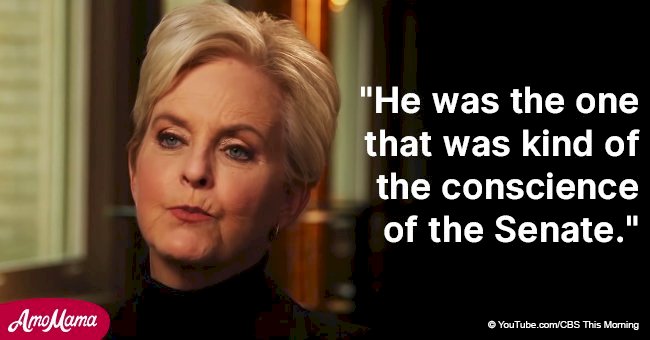 John McCain's wife Cindy delivers her first interview after his passing away
Cindy McCain said her husband would be "distraught at the denigration of all of this." She also revealed how she truly felt about her daughter's speech.
The widow of Senator John McCain spoke on Thursday with John Dickerson who co-hosts "CBS This Morning." This was the first sit-down since her husband's death back in August 2018.
According to CBS News, Cindy said her husband would have been "frustrated" by current politics. She asserted that the country didn't need a "negative nancy."
She also described her own military hero John McCain as something unique. Follow us on Twitter for more @amomama.
"He was the one that was kind of the conscience of the Senate, I believe, and his ability to at least bring people together and talk about it in whatever way he could was very important, and we've lost his voice."
She referenced John's relationship with former Democratic Senator Ted Kennedy as an example of the amicableness that should be present between opposing parties.
Source: YouTube/ CBS This Morning
During the interview, Cindy also revealed how proud she was of her daughter Meghan when she spoke at John's memorial service. Cindy said the "View" co-host and her three siblings took their father's death very hard:
"I will say that our children obviously took this very hard. All of them did, especially Meghan. And Meghan is certainly entitled to and speaks her mind just like her father did."
Source: YouTube/ CBS This Morning
Cindy did not see Meghan's speech beforehand and was surprised at her words:
"And I respect her for that, and I had not read her speech. I did not know what she was going to say but I was very proud of her, very proud of her that day. It was hard to give."
In her tribute, Meghan responded directly to Trump's campaign slogan to "Make American Great Again."
The 34-year-old said in her eulogy at the time:
"The America of John McCain has no need to be made great again because America was always great."
Source: YouTube/ CBS This Morning
She was met with a round of applause, including from her mother.
John died at 81 after a year-long battle with glioblastoma, an aggressive brain cancer. He worked in Congress nonstop as an influential speaker until his death on August 25.
Soon after the announcement, Cindy sent out a tweet that said: "My heart is broken."
"I am so lucky to have lived the adventure of loving this incredible man for 38 years," she continued. "He passed the way he lived, on his own terms, surrounded by the people he loved, in the place he loved best."
Source: YouTube/ CBS This Morning
In mid-October, daughter Meghan also took to social media to express her grief. She shared a photo on Instagram of her father's grave which was littered with flowers.
"I miss you the most on Sunday."
The longtime lawmaker was buried right where he requested in his 2018 memoir. He laid next to his best friend, U.S. Navy Admiral Charles "Chuck" Larson.
Meghan also paid tribute to her father on Veteran's day last Sunday. In another Instagram post, she shared a photo of her father in marine uniform.
Meghan wrote: "Today on #VeteransDay we remember and honor those who have selflessly served and sacrificed. Those who have and continue to fight to protect our freedoms in this incredible country of ours. I am forever grateful."
"I miss you so much Dad, thank you for showing me what fighting for something greater than yourself means. ususus #homeofthefreebecauseofthebrave."
Please fill in your e-mail so we can share with you our top stories!