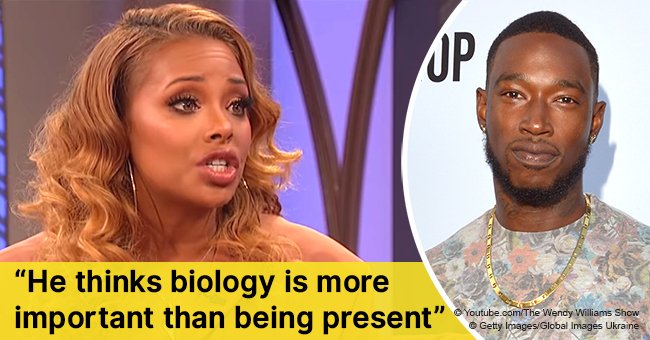 Eva Marcille drags ex-boyfriend Kevin McCall over being a deadbeat father
Eva Marcille, the actress and model best known for "The Young and the Restless," went to the "Wendy Williams Show" to talk about Kevin McCall, her ex-partner.
Kevin is the father of Eva's daughter, Marley, but ever since the ex-couple parted ways in 2014, their relationship has become estranged. During the interview with Wendy Williams, Eva said that Kevin thought that "biology" was more important than being present.
She added that Marley knew her father, saying that it was Michael Sterling. Eva pointed out that he is the one who picks her up from school and gives her life lessons, suggesting that Kevin doesn't.
FACING BACKLASH
A couple of months ago, several people criticized Eva for saying that Michael was Marley's father instead of her stepfather. However, she defended her position and explained why she does not involve Kevin in the girl's life.
"It's really hard with a lot of people's opinions and on social media and Instagram. They're like, 'That's her dad. She should see him.' I'm like, 'He's extremely dysfunctional, and he is not at a place where it's safe for himself or others. Why would I do that?'" pointed out Eva.
THE ONLY WAY KEVIN COULD GET BACK INTO THE GIRL'S LIFE
The woman, who has been a member of "Real Housewives of Atlanta" for a while now, even revealed what her ex-partner could do if he really wanted to be part of his daughter's life: go to the court and "talk mediation."
Unfortunately for Marley, Eva said that she didn't believe Kevin was capable of doing so because he was too selfish to become the parent that the child needed. The bad blood between Eva and Kevin seem far from over. We hope that Marley doesn't get involved in it, though.
THE ALLEGED FIGHT BETWEEN NENE LEAKES AND KANDI BURRUSS
It is not the first time that Eva made headlines in this month as she recently addressed the speculations saying that Nene Leakes and Kandi Burruss fought at her wedding.
Even though the reality star acted clueless about it as a way to make people wait for the "RHOA" episode that would show what happened, Eva confessed that her mother "put out a few fires."
PUTTING OUT FIRES
"I'm her only daughter, so this is her first really big wedding, so she took the mother of the bride job very seriously. I know my mom put out a few fires! I heard of a few, and I'm sure there are a few that I don't even know about!" said Eva.
At the moment, Eva is enjoying life as she has a loving husband, a new child, and is now a regular member of one of the most popular reality shows in the US.
Please fill in your e-mail so we can share with you our top stories!