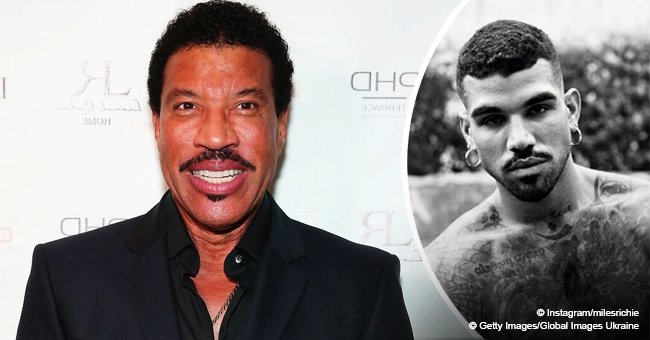 Lionel Richie's model son has Internet users shook after showing off his toned body & tattoos
Several people know that Lionel Richie is one of the most influential musicians in the US history even considered a living legend. What they might not know is that he has a handsome son.
It is often believed that the man has only two children, Nicole – a TV actress and fashion designer – and Sofia Richie – a young model who has worked with Michael Kors and Tommy Hilfiger already.
The truth is that Lionel also has a son. His name is Miles, he was born in 1994, and his robust and tattooed body has surprised a lot of people in social media.
HIS TONED AND TATTOOED BODY
One of the images that has garnered more positive responses from his followers portrays him staring at the camera with a very serious look on his face with no shirt on.
Apart from his tattooed body, the aspects that attracted more attention to him were his toned arms, chest, and abs. People on Twitter cannot stop gushing about the 24-year-old man.
PEOPLE'S REACTION
One of the users wondered why everybody was focused only on Sofia, his younger sister, when Miles was looking "this fine." Others pointed out that Lionel's son looked like the "genie" who has all the answers and grants all the wishes.
As Madame Noire reported, Miles was born of the union of Lionel's marriage with Diane Alexander, who is also Sofia's mother. Just as his younger sister, he is a model.
WORKING AS A MODEL
NY Post recently revealed that Miles became a member of the highly recognized modeling agency Wilhelmina. Most of the times, male models are asked to lose weight but tone up their muscles.
In Miles' case, he didn't need to do something special as he was already fit for the job. During an interview he had with NY Post, he said that he loved working out and that boxing was his favorite thing to do.
HE LOVES TATTOOS
Miles added that he spends two hours a day and six days a week in the gym. When he is not hitting sandbags and lifting weights, he is probably at a tattoo shop.
Talking about all his art pieces, Miles confessed that he doesn't like to count them by number because some of them are quite big. Instead, he explained that he has probably 150 to 175 hours of tattooing.
KYLIE JENNER TATTOOED HIM
Among his multiple tattoos, there is one that attracted a lot of attention a couple of years ago. One of his hands has "KJ," which stands for Kylie Jenner.
That one was inked by Kylie herself with guidance from a professional and licensed tattoo artist.
Please fill in your e-mail so we can share with you our top stories!