Viral video of grandma explaining why we need to pray was watched over 4 million times
Jennifer Walker Smith could not have expected a video of her mother to go as viral as it did. But the elderly woman's heartfelt words were incredibly moving.
Smith shared the video just last week and it has already garnered over four million views. The simple clip shows her mother Esther sitting with a bible in front of her. It is found below. 
Esther spoke about the power of God in our lives and the need for us to pray. Behind the camera, Smith said the two had been talking about "limiting God." She asked Esther to "share that with everyone."  
Follow us on Twitter for more @amomama. 
"Sometimes it seems like God is so far away, and maybe he's not listening. Nothing happens, he's so quiet. And we wonder: 'Does it matter that I pray?'"
Esther's words are extremely relatable and struck a chord with many. Over 4,000 comments were left on the video. 
She continued: 
"Can God help me with this? How he's helped me in the past when I've prayed? But this is a big one. Can he take care of this?" 
Esther responds to her own questions by bluntly saying: "Well that's pathetic, but we've all been there." 
She lifts the bible to read Psalm 78. She then spoke about the People of Israel's mistake in limiting God. 
The elderly woman revealed that she wrote a crucial message to herself at the top of her Bible: 
"Esther, do not limit God." 
Esther put up a finger and said to herself and Smith: "Do you know who he is? Do you know who you're talking to? The almighty powerful God."
She then read another verse from a separate bible that was also relevant to the limitlessness of God. 
When she finished she said: "Imagine saying 'Can God help me with this?' "
Towards the end of her talk, Esther encouraged people to not give up, "keep on asking, keep on praying, he's listening."
Whether it's to give praise, worship, to confess one's sins, or to ask for a change, there are many reasons to pray. 
In the Bible, prayer is littered in the pages. Jesus Christ was said to have prayed persistently. 
Prayer is also encouraged to help one with temptation, for understanding, and it is a prerequisite to a spiritual awakening.
And while anything can be requested for in prayer, one woman criticized a small boy who prayed for ice cream. 
The six-year-old sat with his family in a restaurant. When he made his adorable request, a woman nearby said, "kids today don't even know how to pray."
The boy started crying until a man came up to him and said he knew that God thought the boy's prayer was great. "A little ice cream is good for the soul sometimes," the man said.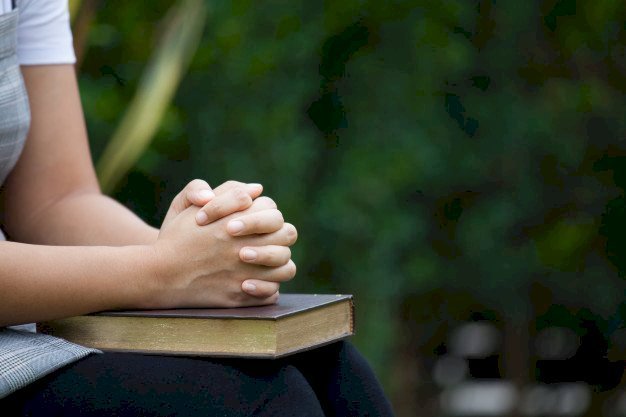 With that, the boy brought over his ice cream to the bitter woman and told her: 
"Here, this is for you. Ice cream is good for the soul sometimes, and my soul is good already."