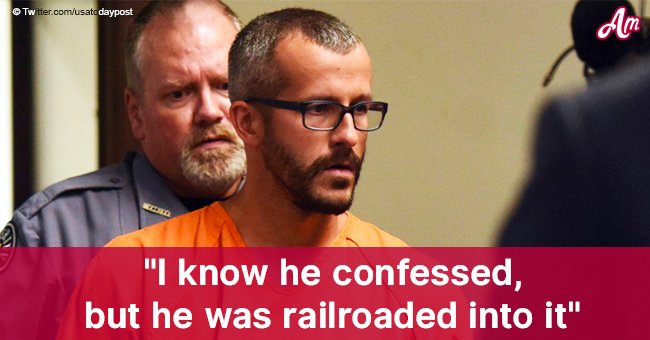 Chris Watts' parents want him to take back his guilty plea claiming confession was railroaded
The mother of Christopher Watts spoke up and claimed his lawyers forced her son into pleading guilty of killing his wife and two young daughters. She said his son should withdraw his pleas.
Cynthia Watts firmly believes that her son didn't kill his two daughters. She said she wants her son to fight the charges.
According to the Denver Post, Cynthia said, "I know he confessed, but he was railroaded into it."
Christopher pleaded guilty in murdering his 34-year-old pregnant wife, Shanann, and their daughters, four-year-old Bella and three-year-old Celeste.
Follow us on Twitter at AmoMama USA for more details and updates.
Cynthia suggested that her son's public defenders were only interested in saving their client from the death penalty and were not focused on proving that he did not commit the crime.
The mother also said that his son should have a psychiatric evaluation to check his mental state when he allegedly murdered his wife.
Furthermore, Cynthia noted that she still believes the story her son told to her husband, that he only killed his wife after he learned that Shanann had strangled both their daughters to death.
Also, every time Cynthia and her husband tried to speak to Christopher without anybody else in the room, his attorneys would allegedly disapprove. The mother is outraged by her son's lawyers.
If in any case, Christopher wants to withdraw his guilty plea, Denver attorney H. Michael Steinberg said the judge could consider it before the sentencing if Christopher can come up with a valid reason. Steinberg said one good reason would be that the suspect has not received a psychological evaluation.
The 33-year-old suspect pleaded guilty on November 6, 2010. He confessed that he murdered his wife and daughters. He also admitted that he hit their bodies in an oil field. According to the plea agreement, Christopher will serve three consecutive life sentences.
It was August 13, 2018, when a family friend reported that the mother and two children were missing. Authorities had arrested Christopher after the children's bodies were discovered in an oil tank on the property owned by Anadarko Petroleum, which is the company that Christopher works for. As for Shannan, her body was found in a grave close to the oil tank.
As for Cynthia, she continues to fight for his son, claiming that she never saw him lose his temper. Reportedly, Cynthia also accused Shannan of being an abusive wife, which could have driven Christopher to the edge.
Please fill in your e-mail so we can share with you our top stories!