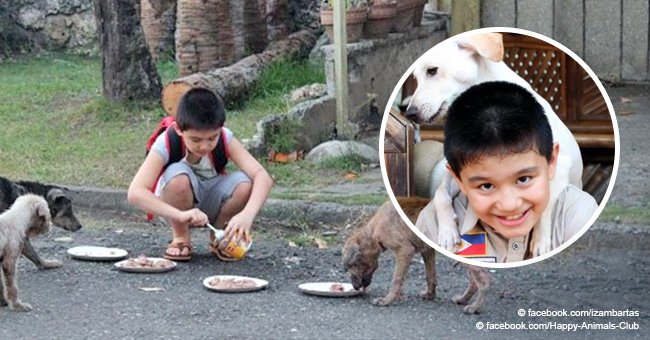 Story of 9-year-old makes his dream come true and manages to open his own refuge for stray dogs
A 9-year-old boy animal lover had always dreamed of opening his own shelter to rescue stray dogs and help them find a new home. However, he never thought he would be able to do it at such a young age.
Ken started by feeding three stray dogs that he encountered on his way home in the Philippines. He played around with them and gave them love, but he wasn't allowed to take them home, as they were in deplorable conditions.
"My dad told me it would take a lot of money and 20 years for me to get an animal shelter. He said only grown-ups can raise enough money to start an animal shelter," Ken wrote the shelter's website.
However, when photos of the boy feeding the animals hit the internet, people from all over the world were touched by his kindness and decided to help. The boy started to get donations, and soon, to his father's surprise, he was able to get the three dogs out of the street and into a temporary refuge built on his garage.
With the money, Ken provided the three dogs with high quality canned food, which is expensive in the Philippines, and gave them proper veterinary care, as they hand mange and were malnourished. He named then Blackie, Brownie, and White Puppy.
He named the small shelter where the puppies were staying at the "Happy Animals Club," and he kept dreaming of having a bigger place someday to help all the animals he wanted.
With the help of his father, Ken set up a website for the shelter, and as the donations kept flowing in, a few months later he was able to pay a 1-year lease on a 1,000 square meter (10,000 square feet) lot for $1500.
They conditioned the space to let the dogs, cats and other animal roam around the area with freedom. They're not kept in cages unless they're sick of another extreme situation.
"Happy Animals Club's main goal is rescuing dogs from the city pound," Ken stated. Revealing that according to one official at the pound, "most dogs are put down because only 20-30% of owners claim their dogs, and no animal welfare organization was doing something about it."
Ken, now 13, is still working at the no-kill shelter, which is currently registered as a non-stock, non-profit corporation. He runs the place as the founder with the help of one administrator, two assistants, and one kitchen helper.
"The shelter exists to serve animals, and caring for the animals is and always will be the number one priority," they say on the website.
"The shelter's mission is to make the animals happy, and as such the animals are treated with respect and love and afforded the best possible care, without compromise, to ensure that every animal is as happy as it can possibly be."
Ken and Happy Animals Club keeps standing thanks to the generous donations of people from all over the world.
Please fill in your e-mail so we can share with you our top stories!