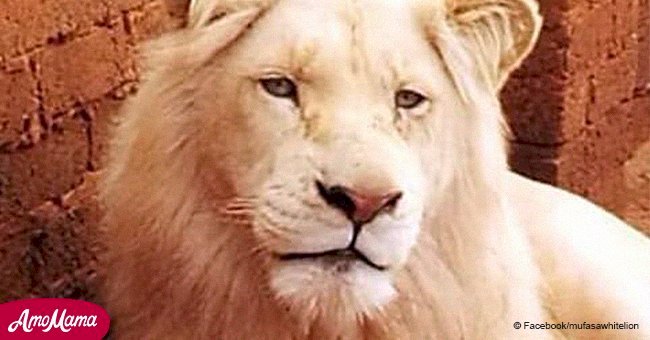 Rare white lion getting sold to be shot as a trophy
A rare white lion may be sold off to trophy hunters and shot after South African authorities agree to put the animal up for auction.
Mufasa is a 3-year-old white lion. The species is so rare that he is one of less than 300 of his kind left in the world. There are only 13 left in the wild.
He is currently in the custody of the Rustenburg Wildlife Rehabilitation Center. The center has taken impeccable care of him.
They even went as far as finding a companion, a second cub called Suraya, for him when he was placed at the center. The two lions have grown up together and are now three years old and are inseparable.
Mufasa had been taken away from his previous owner as he did not have the necessary permits to keep a rare and dangerous animal. The South African Police Service placed Mufasa at the sanctuary while a legal battle with the previous owner ensued.
The legal battle has been resolved. Now the South African North West Department of Rural, Environmental and Agricultural Development want the lion turned over to their custody.
A spokesperson of the Rustenburg Wildlife Rehabilitation Centre says they were told that Mufasa would be auctioned off to "recover legal fees." They say this would be disastrous as "'Mufasa has had a vasectomy and is no longer able to breed and is therefore of no interest to a breeder. The only commercial value he has is to be hunted in a put and chase hunt, otherwise known as a canned hunt.
To stop this from happening the rehabilitation center has launched a petition and court case against the change in custody. They hope to keep Musfasa.
"Please help us prevent the atrocity of having this beautiful lion condemned to a trophy or a bag of bones," said the rehabilitation centre on their petition
The center is begging the public to sign the petition. They are asking for both Mufasa and Suraya to be donated to a sanctuary of their choice to prevent them from being exploited.
The petition currently has 246 347 signatures. Their goal is 250 000 signatures. However, according to reports the department, has denied that Mufasa will be auctioned.
The rehab center says they are taking the court case to a high court. So far they have raised more than $7,000 to aid in the legal battle. Many celebrities including Russell Crow have also been vocal about the cause.
"We are given dominion over animals because of our intelligence (questionable), to me, that dominion has an implicit duty of care," Russell Crowe tweeted in October, "A person who derives pleasure from killing animals is as sick as any murderer #stoptrophyhunting."
Please fill in your e-mail so we can share with you our top stories!