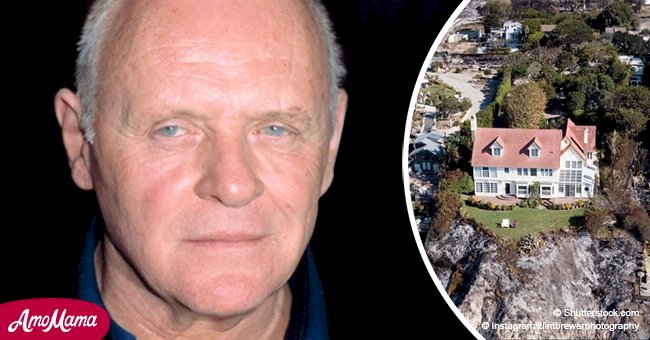 Photos of Anthony Hopkins' house after California wildfire proves he was born under a lucky star
The Woolsey and Hill Fires have been devastating; nearly 12,000 homes and buildings were obliterated when the fire broke out Thursday night,
Actors, actresses, singers among other figures of the world of cinema and television, suffered the total loss of their homes, the flame of fire in California ended with their properties, among the famous affected are Guillermo del Toro, Lady Gaga, the Kardashian family; but Anthony Hopkins was the lucky one, because his mansion was left intact after the fierce fire in California.
The neighborhood was totally destroyed and thousands of people, including the famous, were forced to leave their homes to escape the devastating fire.
Anthony Hopkins is one of the lucky ones when it comes to California wildfires. The mansion of the famous actor, located in the city of Malibu and valued in 4.9 million dollars, remained intact after the fires in California.
In the images that have circulated through the media, you can appreciate that it was one of the few houses that could be saved from the tragedy that affected many families. Read more on our Twitter account @amomama_usa
The stunning photographs show the mansion of the famous actor Anthony Hopkins, circled by other houses that were burned to ashes, while his property did not suffer material losses.
Hopkins considers himself very lucky since his mansion was spared from the devastating fire in California
Unfortunately, the fierce fire in California affected the properties of many families, there were even human losses, and some continue missing.
Other celebrities have joined the humanitarian work to help families affected by the fire in California, such as the case of the singer and actress Lady Gaga, who had a noble gesture to distribute food and everything that was necessary to help the victims.
The protagonist of 300, Gerard Butler, was not as fortunate as Hopkins. The Scottish actor shared a photograph on his Instagram account (@gerardbutler) that shows how his house was in Malibu after the passage of the flames.
"I returned to my house in Malibu after I had to evacuate, it is a heartrending moment in all of California," he wrote, taking advantage of the occasion to thank the work of the emergency teams, especially the work of firefighters.
"Inspired as ever by the courage, spirit and sacrifice of firefighters, thank you." Concluded Butler.
Please fill in your e-mail so we can share with you our top stories!