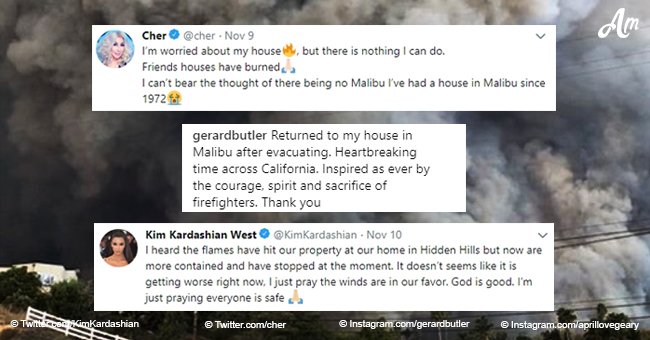 Gerard Butler, Camille Grammer, and other stars who lost homes due to the California wildfires

Actor and producer Gerard Butler, along with several other celebrities, lost their homes to the California wildfires.
When Butler was informed that his home was burnt to ash, he simply said it was a "heartbreaking time across California."
He also thanked the firefighters for their "spirit and sacrifice." Read more on our Twitter account, @amomama_usa.
Butler showed fans what his home looked like by taking them on a video tour via an Instagram post. The clip can be seen below.
Other stars affected by the blaze was Martin Sheen, Cher, Kim Kardashian, Miley Cyrus, and Lady Gaga, who also shared their stories online.
Lady Gaga said that her thoughts are with everyone "who is suffering today from these abominable fires and grieving for their homes or loved ones."
The firefighters were battling exceptionally harsh conditions trying to contain the blaze and received acclaim from all across the globe.
Other, like the Kardashians, hoped that covering their homes in a flame-retardant chemical called Phos-Cheek would help keep the flames at bay.
Caitlyn Jenner was one of the lucky ones her home was spared, even though the flames reached the perimeter fence.
Even though Lady Gaga's home was situated in a high-risk area, her home was somehow spared, but many others weren't as lucky, and more than 170,000 people were evacuated.
The 35-year-old Cyrus said she was completely devasted by the fires affecting the community and is grateful for being one of the lucky ones even though her home was burned to the ground.
She tweeted: "My animals and LOVE OF MY LIFE made it out safely & that's all that matters right now. My house no longer stands, but the memories shared with family & friends stand strong. I am grateful for all I have left."
As reported by BBC, 200 people are still missing, and 31 are confirmed dead. Towards the northern edge of the state, 29 people died in the blaze.
An estimated 250,000 people have been forced to flee their homes to avoid three major blazes in the state.
Please fill in your e-mail so we can share with you our top stories!