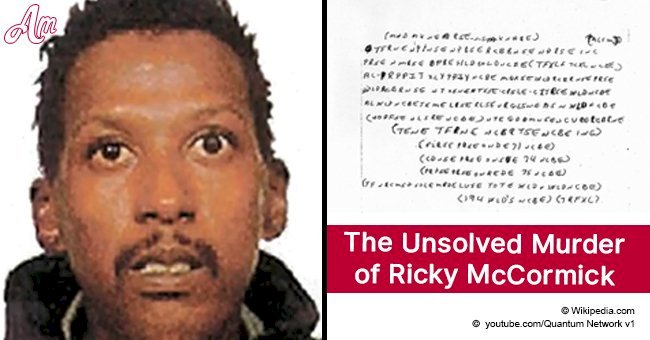 Unsolved McCormick murder: mysterious case the FBI hasn't solved for over 19 years
Two hand-scribbled notes were found on the body of Ricky McCormick on June 20, 1999. His murder remains unsolved, and the information on the notes proved as mysterious as his murder.
Since the murder of Ricky McCormick, much fuss has been made around the two handwritten notes found on his body. The coded messages may be the clue leading to his murder, but we may never find out.
THE NOTES
FBI's Cryptanalysis and Racketeering Records Unit (CRRU) and the American Cryptogram Association have both attempted to deciphering the coded notes and failed. By March 29, 2011, the notes got listed as one of the top unsolved murder cases, and the FBI appealed to the public to enlist their help in decoding the notes.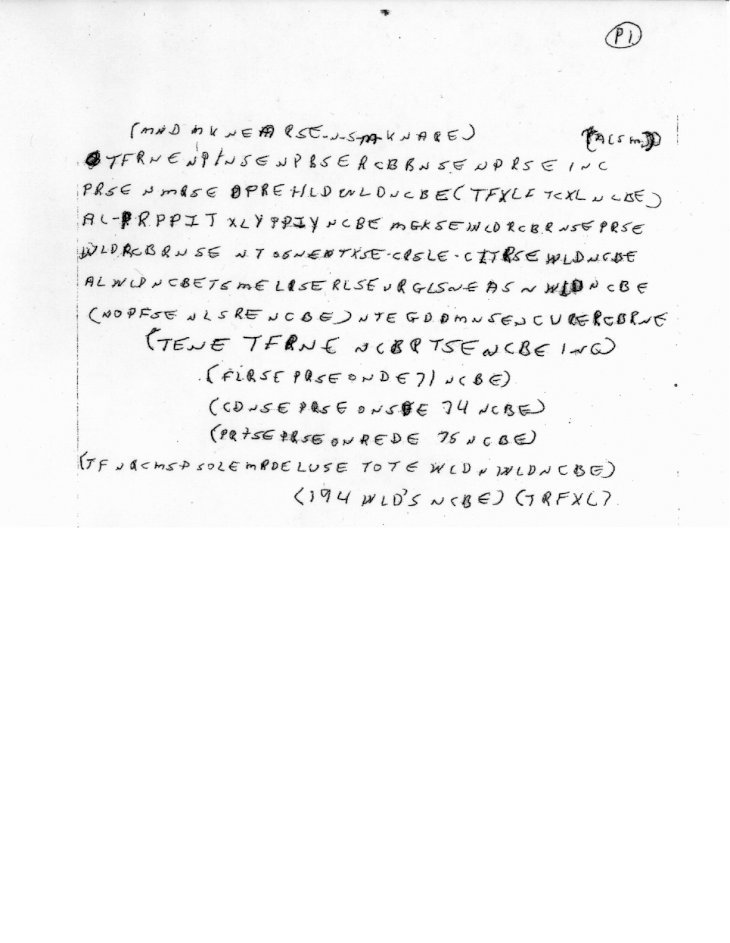 Source: Wikipedia
The FBI's Cryptanalysis and Racketeering Records Unit chief, Dan Olson brought the possible significance of the notes across as he said:
"Breaking the code could reveal the victim's whereabouts before his death and could lead to the solution of a homicide."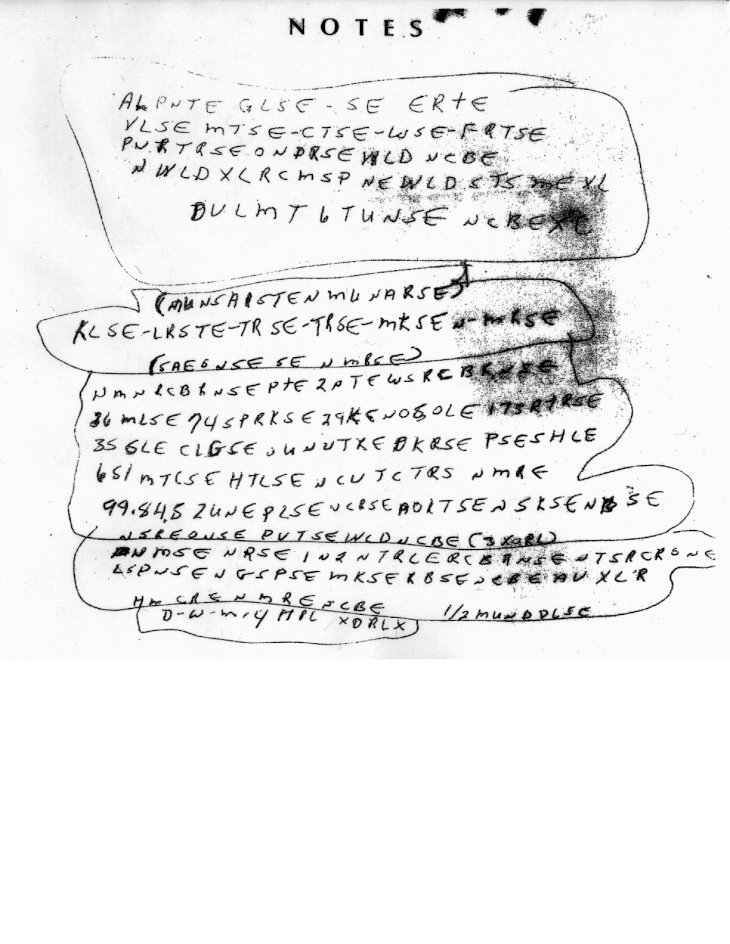 Source: Wikipedia
THE VICTIM
41-year-old Ricky McCormick's body got found by a woman driving along a field road off Route 367 near a West Alton, Missouri cornfield on June 30, 1999.
Ricky got found 20 miles away from his home, which was odd because he did not own a car and there was no public transportation in that area.
When found, his body had already decomposed to an extent and his fingerprints, which were already in the system as he had previously served 11 months of a three-year sentence for statutory rape, got used to identify him.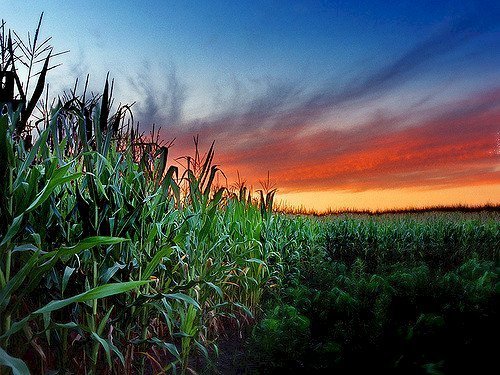 Source: Flickr
A sufferer of chronic heart and lung problems, with no indication of anyone with a motive to kill Ricky, no one reported him missing, and with an inability to determine the cause of death, authorities initially ruled out homicide.
The high school dropout never married although he had at least four children, he was unemployed and lived on disability. The last time he was seen alive was on June 25, 1999, when he went to St. Louis' now-defunct Forest Park Hospital for a checkup.
THE INVESTIGATION
The badly decomposed state of Ricky's body was odd to the medical examiners as they believed he had only died three days prior, and the weather had been moderate. Investigators suspect Ricky got killed elsewhere and his body got dumped after being kept in an outbuilding or vehicle trunk.
After 12 years authorities had not been any closer to solving the case of his death than the day they found him dumped in the field. When the FBI reached out to the public, they were hoping for a lead, and Dan Olsen explained their reasoning when he said:
"It doesn't often happen that we have an unsolved cipher of this length and significance. The characters are not random. There are many E's, for example, that could be used as a spacer. Many characteristics suggest it could be solved, many patterns. The problem is we don't know why it's not solvable."
THE NOTE THEORIES
Contained on those two pieces of paper is over 30 lines of coded text, and three main theories regarding the author of the note have stuck.
The first one suggests that the murderer wrote the note in code and planted it on Ricky's body to throw authorities off his track. The next and popular theory is that Ricky wrote the note himself in a shorthand he had developed over the years. Reportedly, Ricky was only semi-literate with mental health issues and learning disabilities.
Chief Dan Olsen commented that the note appeared to be more like personal notes to oneself rather than something written for someone else.
Ricky's shorthand would have been affected by his mental health and learning challenges; in other words, he would have had his distinct private language. If that is the case then deciphering the notes may never happen. The other popular theory is that Ricky was a courier of encrypted messages between criminals.
THE MURDER THEORIES
According to Ricky's girlfriend, he had made a few trips to Orlando, Florida to pick up marijuana for Baha 'Bob' Hamdallah, the gas station owner and Ricky's boss. After Ricky's return from a recent trip to Orlando, his aunt and girlfriend reported that he seemed scared.
A high-level drug dealer who operated in Ricky's neighborhood and also suspected in several other homicides, Gregory Lamar Knox, stands out as a suspect. As 'a confidential informant also told police that Knox was responsible for the murder of a black man who worked at the gas station on Chouteau Avenue and whose body got dumped near West Alton.'
Anyone with information regarding Ricky's murder is asked to please contact the St. Charles County Police Department hotline at 636-949-3002.
ANOTHER MURDER MYSTERY
Another unsolved murder mystery comes in the form of Chicago businessman Rick Manzie who got murdered many years ago on December 15, 1976.
Rick had married famous singer and actress Barbara McNair four years before his death. On the night of his murder, Barbara was in Chicago for a show at the Condesa del Mar nightclub while Rick stayed at their Las Vegas mansion with Barbara's brother Horace.
Horace had gone out to buy some groceries and found Rick's body half naked in the dressing area of the house. The murder became an instant mystery as there were no signs of forced entry and no other evidence were found in the house.
His autopsy showed that Rick was shot in the head and had several needle marks on his arms, legs, and buttocks. Much like Ricky McCormick, Rick Manzie too had ties to criminals. He used heroin, liked to gamble and was a low-level associate of a Chicago mob called 'The Outfit.'
The question that remains is; will mysteries like these ever be solved and bring justice for the victims?
Please fill in your e-mail so we can share with you our top stories!