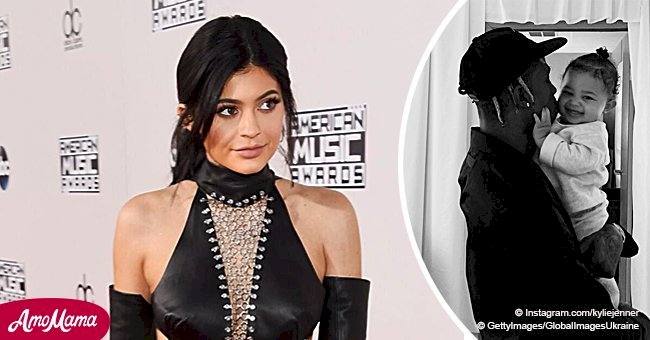 Travis Scott calls Kylie Jenner his 'beautiful wife' sparking marriage debates among fans
On Saturday night Travis gave a shoutout to Kylie and their daughter Stormi during the Astroworld Fest concert, referring to Kylie as his 'beautiful wife.' Hours later he got honored as the mayor declared 'Astroworld Day.'
Thousands of people gathered at the Astroworld Amusement Park on November 17 for Travis' performance. Kylie and little Stormi, now nine months old, was there to support him and when he gave them a shoutout it got the speculation going as he said to the crowd:
"My beautiful wife, she came out. My beautiful daughter, she's here too."
The couple got together in April 2017 and welcomed their daughter Stormi in February 2018. Matters got even more interesting when Kylie posted a picture of Travis and Stormi with the caption:
"Only the people around you really know how hard you work. I love to watch you make all your dreams come true."
Travis then replied, "I love u wifey." The following day the Mayor of Houston, Sylvester Turner declared November 18 as 'Astroworld Day.' This honor got bestowed upon Travis for his contribution to the city's community, arts, and to celebrate his latest album.
Read more on our Twitter account @amomama_usa.
The ceremony got held at City Hall, and Travis took to the podium to thank his hometown, but also to encourage them to embrace the arts as a foundational pillar for the youth. He also took the time to explain the inspiration behind his hit album, 'Astroworld.'
He named the collection after a closed down amusement park in Travis' hometown of Houston. The immortalization of the park is partially the reason why Travis got honored, and he wanted to bring back the same vibe one experiences at a theme park in the music as he explained:
"I grew up here my whole life. I was inspired by Astroworld. In '05 when they took it away, it kind of like took a big piece of my heart away," he said. "I just wanted to kind of bring back that feeling and give this city something [so] they can always have something fun to do."
Kylie also posted a video on Instagram on Sunday where Stormi called Travis 'dada.' but neither one of them said anything to clarify, so whether they got hitched in secret or whether they will get married soon remains to be seen.
According to sources the young couple, Travis, 26 and Kylie, 21, are great parents and try to give Stormi as much of a normal life as possible even though they live flashy lives. Travis had previously shared concerns about having a child so early in their lives, but after the birth of Stormi, they are actively trying to give Stormi and little brother or sister.
In the meantime they are figuring things out as they go and Travis said:
"It's so hard, because I grew up in a different household where I never had a nanny or nothing like that—my parents were never on a tour—so being able to do that and figure it out at 26, it's, like, hard, but when you're going through it, it's like, 'Oh this is dope,'"
During a recent visit to the 'Ellen Show' Travis spoke more about being a father as he said:
"Going into it, I was nervous and scared, because we're both young. But, you know, when you first hold a baby in your arms, it's uncontrollable. I never thought I could just love something so hard, you know? It's crazy."
He was present during the birth of Stormi and admitted to being scared, but is grateful to Kylie's mum Kris, that helped him through it as he elaborated:
"There's this thing called the placenta, that I've just been hearing about? Oh my god. So, I was fearful of all that. But I cut the umbilical cord. But, yeah, (Kris) held it down. Mama KJ, she's the best."
Kylie also mentioned that her perspective on life has changed since becoming a mother as she commented:
"I think the way I look at life has changed since becoming a mum. I think more of the future. I used to live each day as it came, and now I look at the future more."
Even Ellen Degeneres called Kris Jenner Travis' 'mother-in-law,' sparking more flames under the fire speculation that the couple got married in secret.
Please fill in your e-mail so we can share with you our top stories!