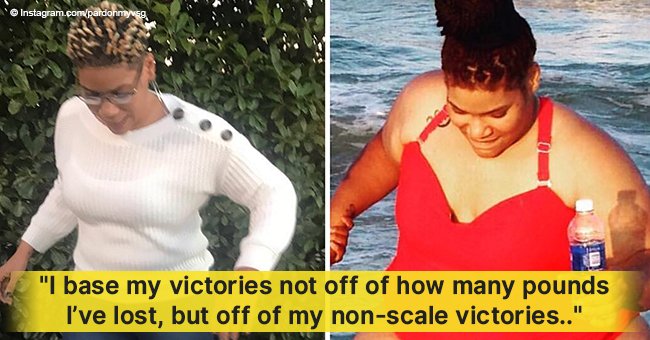 Woman dropped 190 pounds and gained a sense of peace, after being sexually assaulted by her cousin
Zelshanna Pardo's life has not been easy. She was sexually assaulted by her cousin, had his son, was an alcoholic and on top of that, she was obese. However, the 32-year-old has made amends in her life after losing 190 pounds in two years. She's still working on her mental health.
Zelshanna, known as Zel on social media, recently opened to Madame Noire about the exact reasons behind her weight gain, her failed attempts at losing pounds before, the reason why she identifies as a lesbian but has a son, her alcoholism, and the work she's doing to recover her mental and physical health.
The Greensboro, North Carolina has been documenting her weight loss journey on Instagram for a few years. She got her weight-loss surgery, specifically a vertical sleeve gastrectomy, in 2016, and has lost 190 pounds since then.
GROWING UP IN A "LARGE" FAMILY
Zel revealed that she had always been the "fat girl" in her group of friends. Her family didn't have healthy eating habits, and most of them were "big." Her grandmother, who raised her, was also a large woman, so having a few more pounds than usual was normal for Zel. Until she entered college.
"When I went to college, I started to notice the difference between healthy eating and unhealthy eating. My friend, she was like a workout junkie, so she was like, 'If you want me to help you, I can.' But it was nothing I could ever really stick to," she explained.
A LIFE CHANGING SITUATION
At 25, and still in college, Zel was raped by her second cousin and got pregnant. She told her family, but they didn't believe her after the man stated it had been consensual. The police did nothing for her, and her mother accused her of seeking fame and attention with her statement.
"Because there was no one there to corroborate my story, it was basically my word versus his."
However, that wasn't the first time she had been raped.
"Why me? Why does this keep happening to me? Do I have 'rape me' on my forehead?"
In her teenage years, her stepfather also abused her. He admitted it from "his own mouth" to Zel's mother, but she chose to stay with him even to this day, which created a restraint between Zel and her mom.
"My mother and I don't have a relationship. We've tried to build one; it just doesn't work out because she's a narcissist and she doesn't want to take responsibility for anything."
Her alcoholism and lousy eating habits were a coping mechanism for the trauma of being raped twice by members of her family. She would ask herself every day if she had some kind of sign on her forehead that said "rape me," and was not in the right place, spiritually and mentally, to start shedding pounds.
And despite the constant reminder of her rape that having her cousin's son gives her, Zel decided not to take it out on the boy, whom she says is on the autism spectrum, and instead, he became the source of encouragement she needed to lose weight.
By the time the boy turned 2, he was running around and following after him was a constant struggle for Zel. Her knees ended up hurting, and she got tired quickly because of her weight.
But being a mom that watched her son from afar as he ran and played around was not the life she wanted, so Zel decided to put in real effort and lose weight, that's when she decided to undergo weight-loss surgery.
KEEPING THE WEIGHT DOWN
Zel confessed that she's not a big fan of the gym, and stays away from it. However, she's aware that maintaining a diet without exercising might not work for everyone, but she's following the keto diet to stay healthy, not to enhance her appearance.
"I go by the way my clothes fit. Coming from a 28 to a 12 in jeans is amazing. So for me, it's about a goal. If I can fit these clothes? Great. I base my victories not off of how many pounds I've lost, but off of my non-scale victories."
Now engaged to a woman, and set to get married next summer, Zel couldn't in a better place in her life. She's going to therapy and working on her issues as a victim of sexual assault.
Meanwhile, she promotes self-love and raises mental health awareness on her Instagram account. She has reduced her alcohol intake by a lot and is focusing on leading a happy life with her son and her soon-to-be wife.
ANOTHER INSPIRATIONAL WEIGHT LOSS JOURNEY
On a similar story of a woman finding the right motivation to lose weight in her children, Rachel Saintfort decided it was time to shed some pounds after one of her daughter's classmates made fun of her weight, upsetting the little girl with her comments.
Saintfort lost 121 lbs in less than a year, surpassing her original goal of losing 100 pounds and making herself and her daughter proud.
When her scale showed the fantastic numbers, she cried, as she said:
"It was an amazing feeling. I still don't feel like it's real, but getting on a plane and putting your seatbelt on without feeling like it won't fit, or going up a flight of steps is beautiful to me. I mean, I used to need my daughter to put on my shoes."
Rachel is still working out and training, and she's constantly sharing the results of her extreme weight loss on Instagram, sharing words of encouragement to other women who might be going through a similar situation.
Please fill in your e-mail so we can share with you our top stories!