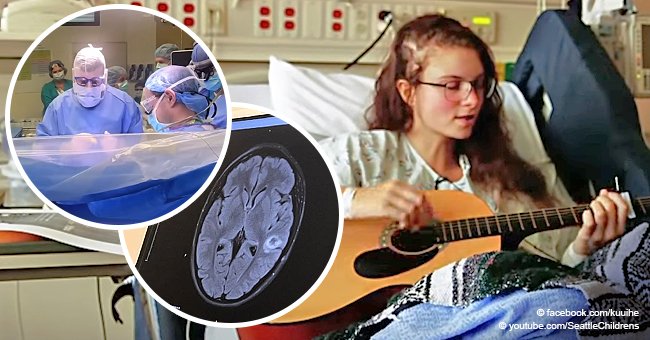 Teenager stays awake during brain surgery, sings to save her music abilities
Kira Iaconetti, a 19-year-old talented musician, had to go under surgery to remove a tumor that was affecting her abilities. However, her doctor came up with an innovative way to make sure her talent would be left intact even after the delicate surgery: he made her sing through the process.
Kira's favorite thing in the entire world is to be on stage singing, acting or playing the guitar. She's a self-taught musician that started singing at 6, but four years ago, she noticed there was something wrong happening at random times when she sang or listened to music.
"It was like a light switch turned off in my brain," Iaconetti said in an interview for Seattle Children's Hospital. "Suddenly, I was tone deaf, I couldn't process the words in time with the music, and I couldn't sing."
At first, she got used to the two-minute glitches, thinking it was normal for a musician to experiment episodes like that from time to time. She would usually go back to performing regularly, but she felt strangely exhausted.
"In a sort of twisted joke from the universe the tumor was right inside the area of my brain that controls my hearing and singing ability."
"Forcing myself to sing after one of these glitches was extremely difficult," she said. "I would become incoherent, slurring and stuttering my words."
THE DIAGNOSE
However, the recurrence of the events pushed the girl to consult a neurologist at the Seattle Children's Hospital. There, she was diagnosed with a weird type of seizure that only occurred when her brain was exposed to music. An MRI revealed a marble-sized mass in the right temporal lobe of her brain, against her auditory cortex.
Dr. Jason Hauptman, a neurosurgeon in Seattle Children's Neurosciences Center, explained:
"Her tumor was discovered because of a very unusual type of epilepsy she had called musicogenic epilepsy. These seizures are triggered by listening to music or singing, which is an unfortunate problem for Kira since she is a performer who likes to sing."
THE SURGERY
"In a sort of twisted joke from the universe the tumor was right inside the area of my brain that controls my hearing and singing ability," said Kira. Unfortunately, there was no other alternative but to remove the tumor.
Working closely with the girl and his team, Hauptman came up with a clever and innovative surgery plan: he would wake up Kira during the surgery and have her sing so he could map out the sections of her brain that were used. He would avoid touching the area while removing the tumor.
"Our focus was not only on taking care of the tumor but making her life better. We wanted to preserve the things she cares about like her passion for pursuing a career in musical theater," Hauptman said.
It was the first awake craniotomy performed at the hospital.
"We've never had a patient sing in the operating room before, and Kira is such a talented musician," neuropsychologist Dr. Hillary Shurtleff said. "Her voice is so beautiful, and her willingness to do something new helped make the whole process interactive, collaborative and exciting."
She sang Weezer's "Island in the Sun," a song that she said reminds her of her family and Hawaii, her native island.
THE OUTCOME
After 48 hours, Iaconetti was back to singing and playing her guitar. Her doctor said she wouldn't need any follow-up surgeries.
She's ready to keep on showing the world her talent, now without being afraid about the seizures.
"My biggest fear before the surgery was that the seizures would get in the way of performing," she said. "Now, I want to get back to the stage, to performing as soon as I can."
A DANCE PARTY ON THE OPERATING ROOM
On a similar story connecting music to health, an Ob-Gyn and mother of two, Dr. Deborah Cohan, made the operating room her dance floor moments before her double mastectomy.
Cohan made everyone in the surgery room dance to Beyoncé's "Get Me Bodied" as part of a staged event for her CaringBridge page, a website where patients can connect with family and friends on a private platform, instead of social media, to give updates on their health status, receive moral support and more.
"My fantasy is for you to play the song ... and dance wherever you happen to be," Cohan wrote on her CaringBridge site. She also requested friends and family to send photos and videos of themselves dancing to the song.
Please fill in your e-mail so we can share with you our top stories!
The information in this article is not intended or implied to be a substitute for professional medical advice, diagnosis or treatment. All content, including text, and images contained on news.AmoMama.com, or available through news.AmoMama.com is for general information purposes only. news.AmoMama.com does not take responsibility for any action taken as a result of reading this article. Before undertaking any course of treatment please consult with your healthcare provider.