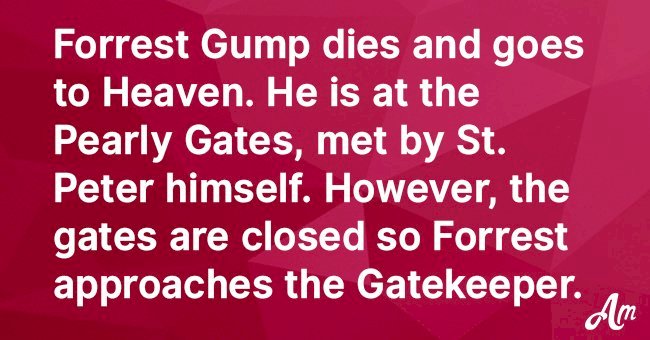 Forrest Gump goes to Heaven, but he was asked 3 questions before entering
Forrest Gump will always be remembered for his perseverance, loyalty and also his sense of humor. The following joke will keep the laughter going in unique Forest Gump style.
Forrest Gump arrives at the Pearly Gates after he died and met by St. Peter, the gatekeeper himself. Finding the gates closed he approaches St. Peter who says:
"Well, Forrest, it's certainly good to see you. We have heard a lot about you. I must tell you, though, that the place is filling up fast, and we've been administering an entrance examination for everyone. The test is short, but you have to pass it before you can get into Heaven."
A tad confused Forrest responds:
"It shor is good to be here, St. Peter, sir. But nobody ever tolt me about any entrance exam. Shor hope the test ain't too hard; life was a big enough test as it was."
St. Peter nods and continues:
"Yes, I know, Forrest, but the test is only three questions: First: What two days of the week begin with the letter T? Second: How many seconds are there in a year? Third: What is God's first name?"
Forrest takes the rest of the day to think the questions over and returns the next day to tell St. Peter what he came up with after St. Peter says:
"Now that you have had a chance to think the questions over, tell me your answers."
Forrest starts by saying:
"Well, the first one — which two days in the week begin with the letter "T"? Shucks, that one's easy. That'd be Today and Tomorrow."
Not expecting that answer the Saint exclaims:
"Forrest, that's not what I was thinking, but you do have a point, and I guess I didn't specify, so I'll give you credit for that answer. How about the next one? "How many seconds in a year?"
Admittingly Forrest says the second question was harder and adds:
"But I thunk and thunk about that, and I guess the only answer can be twelve."
Flabbergasted the Saint says:
"Twelve? Twelve?!?! Forrest, how in Heaven's name could you come up with twelve seconds in a year?"
"Shucks, there's gotta be twelve: January 2nd, February 2nd, March 2nd. . ."
Interrupting Forrest Gump, St. Peter says:
"Hold it. I see where you're going with this, and I see your point, though that wasn't quite what I had in mind….., but I'll have to give you credit for that one, too."
Moving on to the last question St. Peter asks Forrest what God's first name is. Nodding, Forrest replies, 'Sure, it's Andy.' The confounded and frustrated St. Peter tries to understand how Forrest came up with that answer and says:
"Ok, I can understand how you came up with your answers to my first two questions, but just how in the world did you come up with the name Andy as the first name of God?"
Smilingly Forrest replies:
"Shucks, that was the easiest one of all! I learned it from the song. . . . "ANDY WALKS WITH ME, ANDY TALKS WITH ME, ANDY TELLS ME I AM HIS OWN. . . ."
Promptly St. Peter opens the Pearly Gates and tells him, 'Run Forrest, Run!'
There is a lesson weaved into this humorous tale, being different is not necessarily a drawback, and the way he tackles situations have shown immense optimism. Being different made him stand out for the unique, loved character that he is.
One of the most memorable scenes during the movie got inspired by an actual event. When 16-year-old Louis Michael Figueroa ran from New Jersey to San Francisco in 1982 in aid of the American Cancer Society, he unwittingly inspired the line for Forrest's famous run in which he said:
"I just put one foot in front of the other. When I get tired, I sleep. When I get hungry, I eat. When I have to go to the bathroom, I go."
Everyone remembers the park bench Forrest sat on for a good portion of the movie. The famous bench in Savannah, Georgia, at Chippewa Square has since been moved to a museum to avoid being stolen or damaged.
Tom Hanks received no payment for his role as Forrest Gump but took percentage points instead which netted around $40 million while strangely enough, the author of the original Forrest Gump book, Winston Groom, received no royalties of any kind due to Hollywood Accounting.
As much loved as Tom Hanks was in Forrest Gump, he still is today. Not surprising when he does things like crash newlyweds' wedding pictures taken in Central Park, New York.
On September 24, wedding photographer, Meg Miller was busy taking wedding pictures of Elisabeth and Ryan when Tom Hanks strolled up to them, took off his hat and introduced himself to the newlyweds.
After posing for a few pictures and wishing them all the best for their future, he left them to get back to their plans for the day. Meg posted pictures she took on Imgur with the caption:
"Yesterday's wedding was so beautiful! Elisabeth and Ryan, you planned one amazing celebration. The icing on the cake was Tom Hanks stopping in Central Park to wish them congratulations."
Tom Hanks himself took a few pictures and posted it to his Instagram and Twitter accounts and added:
"Elisabeth and Ryan! Congrats and blessings! Hanx."
Known for his acts of bringing unexpected joy to others is something Tom shares with his character, Forrest Gump.
Please fill in your e-mail so we can share with you our top stories!