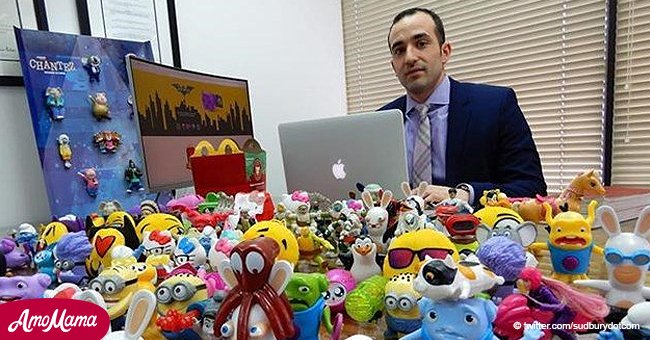 Father of three sues McDonald's because his kids require Happy Meals every two weeks
A father in Quebec sued McDonald's for allegedly breaching the province's "child advertising laws." All his efforts were due to his kids demanding to have Happy Meals every two weeks.
Dad of three, Antonio Bramante, claimed that the fast food chain had been breaking strict advertising rules in Quebec, Canada.
As reported, the province bans any company to have children under the age of 13 be a particular product's target market.
Bramante is the lead accuser of the lawsuit that had already been certified by the court.
Follow us on Twitter at AmoMama USA for more details and updates.
According to Bramante, he and his family are regulars at their local McDonald's. They eat at the fast food joint once every two weeks per his children's demands.
He has estimated that he had spent more than hundreds of dollars buying Happy Meals for his children.
Bramante is mainly enraged that the toys are linked to popular films most of the time. McDonald's releases movie-related toys, such as the movie characters, by the time the movie also premieres. With several movie characters being turned into toys, the fast food giant often advertises them as a full set, which urges the children to get their hands on the complete collection and not just one toy.
In addition, Bramante also pointed out how McDonald's directly target children by displaying the Happy Meal toys at their eye level.
In Quebec, companies are not allowed to target children under the age of 13 with their marketing schemes. The province is one of the few places in the world with such laws.
Since 1980, it also has a law that bans the marketing of unhealthy food to children.

Source: Twitter/ Daily Mirror
Bramante's lawyer, Attorney Joey Zukran,
exclaimed
, "McDonald's has a legal obligation to respect that law and they're not, in Quebec at least."
He also said that anybody who has ever bought a Happy Meal in Quebec from November 2013 until the present is allowed to make requests to be included as plaintiffs of the lawsuit.
Bramante reportedly wants to be compensated and is seeking disciplinary action.

Source: Twitter/ Daily Mirror
As for McDonald's Canada, they released a statement, saying, "We are aware of our obligations under Quebec's advertising laws and reiterate that we do not believe this class action has merit."
Quebec's children advertising laws has three exceptions, which are for ads in children's magazines, for promoting entertainment events for children, and for advertising through shop windows, displays, packaging, and labels.

Source: Twitter/ Daily Mirror
Meanwhile, a mother of a 14-year-old girl also
filed
a $1.56 million lawsuit against McDonald's in central Oregon for allegedly serving a very hot cup of water to her daughter. She had supposedly burned her lap.
The daughter reportedly had "partial thickness burns" found in her abdomen, groin, and inner thighs.
In another story, a man wanted to prove a point that he could lose weight and eat McDonald's meals at the same time. For a solid month, he ate nothing but food from the restaurant and compensated with exercise.
Please fill in your e-mail so we can share with you our top stories!