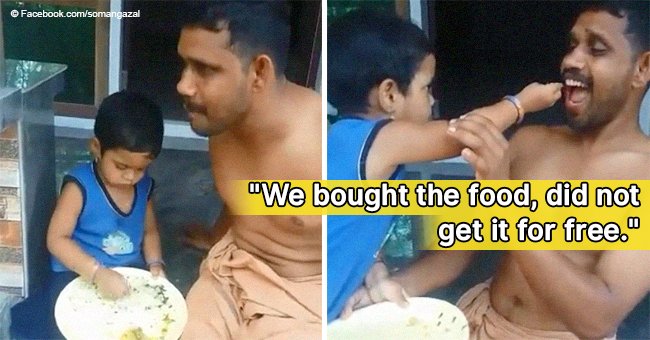 Little girl goes viral for feeding her dad & scolding him to finish his food in video
An adorable toddler from India earned worldwide attention after a video of her feeding her father, and not letting him standup until he finished the food went viral.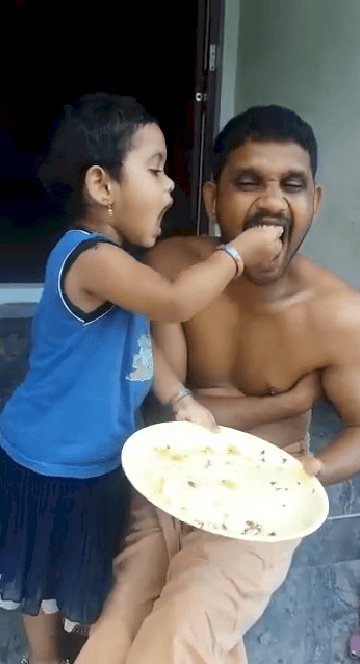 Source: Facebook/somangazal
The 5-minute long video posted to Facebook shows the father-daughter duo sitting on the porch of their home somewhere in the Indian state of Kerala. The adorable girl, wearing a blue tank top and a matching skirt, has a plate with food on her lap.
Her father, shirtless and wearing brown pants, sits beside her as she feeds him while scolding him everytime he exclaims he's full. Rolling balls of rice into her tiny hands and guiding them to her father's mouth, the girl tells her dad, in Malayalam, "Kaash koduthu vaangicheya," which can be translated as "We bought the food, did not get it for free," according to the Indian Express.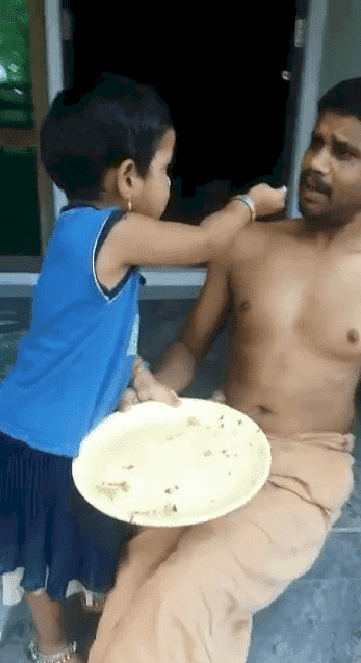 Source: Facebook/somangazal
The man is clearly amused by his daughter's antics, and the person behind the camera, probably the mother, can't stop laughing either. But the girl takes her job seriously, not resting until her father ate the last single grain of rice from the plate.
Her parents have probably been teaching the girl that food must not be wasted, and she seems to have learned the lesson.
DON'T MESS WITH THIS GIRL'S FOOD
While the Indian girl had to force her dad to eat, on the other side of the world a girl had to scream to her father to stop eating.
A hilarious video of 2-year-old Cali Amor Saunders went viral, and now people can't get enough of the sassy girl.
In the clip, Cali is earing ramen sitting beside her dad, and the man starts picking up some noodles from her plate and slurping it annoyingly. At first, Cali asks her dad nicely to stop doing that, but as the man keeps stealing the food, she explodes.
"Don't eat that!" she screams, making her dad stop in his tracks, and she adds "I'm not your friend either!" to top it all.
Cali's dad should have known that is an unspoken rule to not mess with someone's food. He had it coming.
The internet is loving the girl's antics and her Instagram account already has 125k followers.
Please fill in your e-mail so we can share with you our top stories!