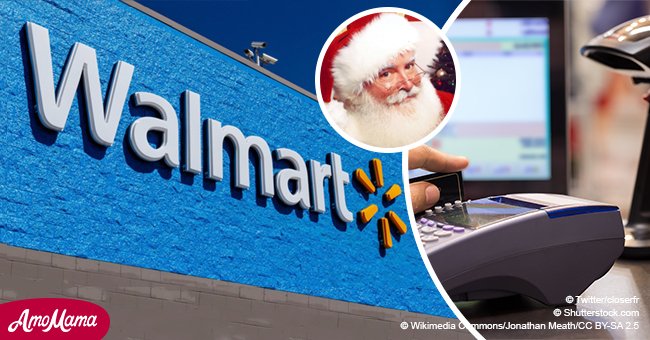 Mystery 'Santa Claus' pays for entire lot of layaway items at Walmart
Just like a real-life Santa Claus, an anonymous man paid off all layout items at Walmart in Derby, Vermont.
The mysterious man's act of generosity took place on November 15 - only days before Thanksgiving.
One of the fortunate customers, Julie Ann Gates, said she couldn't believe what she was seeing, as reported by ABC News.
Julie Ann decided to ask the man for his real name. Before he left, he told her his name was "Kris Kringle."
Follow us on our Twitter account, @amomama_usa, to learn more.
"I just can't put into words how much that man has done for so many people," Julie Ann told ABC News. "He is the true meaning of Christmas."
According to her, she was in the line to pay for her items when she overheard a man asked one of the customers in the line about paying for items.
Julie Ann recalled that the man said, "Listen I can either have you put it on a layaway, and I'm going to pay for it when you leave. You'll just have to come right back and pick it up or you could follow me over to the cash register, and I pay for it now."
She initially thought it was a dad and his child. But then the man approached her by himself.
"The guy turned to me and said 'are you going to put anything on layaway,'" Julie Ann said.
The man told her, "Well why don't you run and get what you were going to get and come back, and I pay for it. I have a few minutes before I go to the doctor."
Julie Ann didn't know what to make of it until the point that she understood it wasn't a prank.
"Nobody does that," she told the news outlet.
After retrieving her items, the man was still there waiting to pay for her.
She recounted, "He was waiting for me to come back with my layaway, and he said 'you know just go over to the cash register and I'll come over and I'll pay for it.'"
Julie Ann could hardly believe at what she just witnessed.
After putting her items in her car, she thanked the man for his generosity.
She then asked the man, "How could anyone afford to do this?" To which he replied, "Santa Claus can."
Julie Ann decided to ask the man for his real name. Before he left, he told her his name was "Kris Kringle."
She took an image of him using her mobile phone, but she only captured his back.
Julie Ann believed that the man might experience considerable difficulties throughout everyday life and now he simply wants everybody to be happy.
Please fill in your e-mail so we can share with you our top stories!