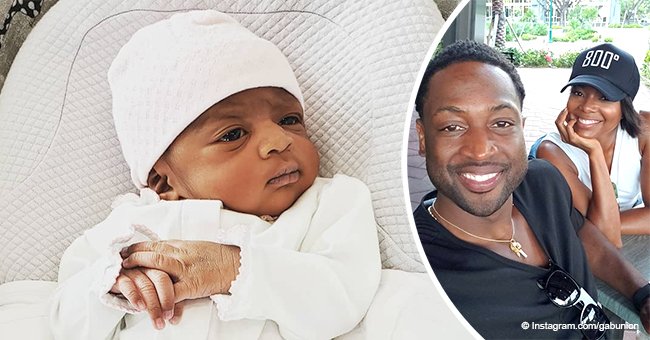 Gabrielle Union steals hearts with close-up photo of her & Dwyane Wade's baby daughter
Gabrielle Union, the actress and wife of NBA star Dwyane Wade, took to Instagram to share the first close-up photo of their daughter, Kaavia James.
In the image, the baby was wearing a white onesie and a matching beanie hat while placing her hands together on her chest and looking to the side. One of the most striking aspects of the post was her face as she looked as if she was saying "really?"
For the caption, the actress wrote that her little "dynamo" reminds her to never give up on her dreams and never to think that she is alone. She added that several people were suffering in silence and that they were "screaming and nothing is coming out."
HER CAPTION
"Let us all remember to keep our eyes, minds and hearts open to one another and for ourselves as well. To anyone suffering and losing hope, let us all lift you up in the light of goodness and hold you there. You are loved, heard and seen," finished Gabrielle.
PEOPLE'S REACTION
As soon as she uploaded that post, her followers took to the comment section to share their thoughts. Some of them thanked her for finally showing a close-up photo of Kaavia. Others praised the baby saying that she looked beautiful. One user pointed out that she was "daddy's baby," saying that she had Dwyane's face and long fingers.
THE BIRTH OF THE GIRL
Gabrielle and Dwyane welcomed their little bundle of joy on November 7 after years of trying to conceive. Their "miracle baby" was born via surrogate. Gabrielle suffered multiple miscarriages and failed IVF attempts in the past. This prompted the couple to turn to surrogacy.
One of the most striking aspects of the post was her face as she looked as if she was saying "really?"
A TOUCHING FATHER AND DAUGHTER MOMENT
Before Gabrielle uploaded that image, the proud mother took to Instagram to share a photo of her husband sitting on a white chair with no shirt on holding Kaavia in his arms.
One of the highlights of the picture was that the NBA player was feeding Kaavia, sharing a very touching father-and-daughter moment.
TALKING ABOUT THE BABY'S NAME
While the birth of the baby was a big milestone in the couple's life, several people have wondered why they chose "James" as her middle name. Some said that it was because of NBA player LeBron James, but Gabrielle took to Instagram to tell the truth.
"Great question. We wanted my family represented in her name. My godfather is my Uncle James Glass. She is named after him.. and then Union… that's… ya know… me [sic]," revealed the actress.
Please fill in your e-mail so we can share with you our top stories!