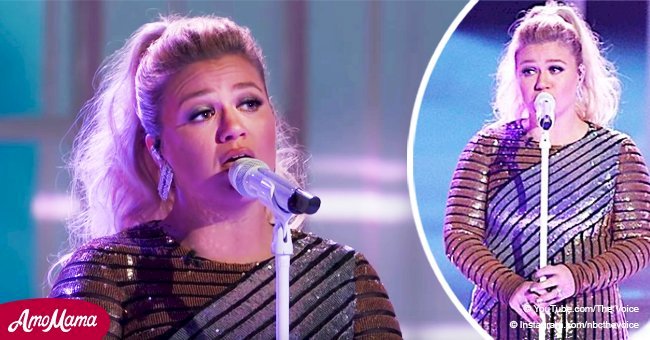 Kelly Clarkson nails a lovely rendition of Dolly Parton's classic hit before an ecstatic crowd
In a first for "The Voice," coaches performed on stage alongside their teams and there is no doubt in anyone's mind that Team Kelly Clarkson won that round, as the video below clearly proves.
Kelly Clarkson and her gifted prodigies sang a glorious rendition of "I Will Always Love You" that would make both Dolly Parton and Whitney Houston proud.
Team Kelly Clarkson, comprising of Chevel Shepherd, Kymberli Joye, Lynnea Moore, and Sarah Grace, each got a chance to showcase their unique singing ability, as did Kelly herself.
Fans of Kelly Clarkson know that she is no stranger to the competition stage having made her entry into the music industry by being the first ever winner of "American Idol" over 16 years ago.
Having four of her singers make it to the end game proves she knows exactly what it takes to win this type of competition and she isn't afraid of sharing the secret with her team.
Her rapport with them on stage and the way she made sure each of them got to highlight their talent while coming together in synchronicity shows her personal ability as more than just a singer.
The studio audience applauded their harmony enthusiastically and it's no surprise why all four of these amazing singers have made it this far and continue to progress in the competition.
Team Kelly Clarkson is the epitome of "Girl Power" and is no doubt a team to be reckoned with. Watch the video below and decide for yourself.
Clarkson,36, recently shared a picture of her two children with husband Brandon Blackstock taken on the set of "The Voice."
The proud mama captioned the picture of her cuddling with 4-year-old daughter River and 2-year-old son Remington:
"Love when the kids come see me on set!"
In stark contrast to Team Kelly's win, Team Adam Levine comprising of Adam, Reagan Strange, DeAndre Nico, and Tyke James chose Fleetwood Mac's "Rhiannon."
Their rendition of it reportedly fell flat and only managed to make fan-favorite Strange look good.
"The Voice" returns on Monday, November 26th, airing on NBC at 8:00 p.m. ET.
Please fill in your e-mail so we can share with you our top stories!