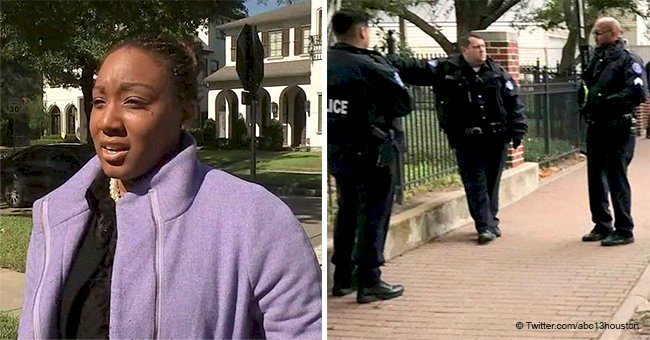 Police called on Black graduate student for reportedly breaking library's 'unwritten rule'
A black Houston graduate student has been studying library science at libraries across the area without any issues. Until she was kicked out of the West University branch for breaking an "unwritten rule."
As an academic, Ashly Horace, a Houston graduate student, has always felt at home in libraries. She is studying library science as part of her graduate work.
To complete her project she is required to visit libraries across the area and observe song and play through story time. She has never had a problem completing her work until recently.
Unfortunately, her lucky streak has come to an end. While visiting the West University branch she believes she was targeted because she is black.
She says she had issues from the time she arrived saying when she arrived a woman blocked the door and demanded to know why she was there. Horace had calmly replied she was there for story time and after a while, the woman begrudgingly let her into the facility.
However, moments later the same employee returned. She told Horace her manager said she had to leave.
When Horace demanded to know why she had to leave, the woman threatened to call the police. Horace again asked what she had done to which the woman replied, "I am going to call and tell them you're trespassing.
When the police arrived and spoke to both Horace and the manager they decided that Horace had not done anything wrong. However, they did state the manager has the right to tell anyone she wants to leave the facility.
The Harris County Public Library officials said Horace was asked to leave due to an unwritten rule which required any adult attending story time to be accompanied by a child. They claim the rule is in place as they had issues with children being put in unsafe positions in the past due to strangers attending story time.
However, Horace does not agree. She recalled telling the manager that "If my skin wasn't brown, you wouldn't be doing this." she then went on to say that the manager looked shocked that she had called her out.
Similar Situations:
The incident comes in the midst of recently reported incidents under the hashtag #studyingwhileblack. The hashtag was started after a black student of the Catholic University of America, Pabló Gonźalez was kicked out of the library at the university by a white woman.
She called the cops on him because she did not appreciate his tone. Gonźalez caught the interaction on tape and posted it to social media where it went viral.
Another incident that went viral was a family who went shopping at Sausalito. They were kicked out of this store without any clear provocation or reason.
Please fill in your e-mail so we can share with you our top stories!