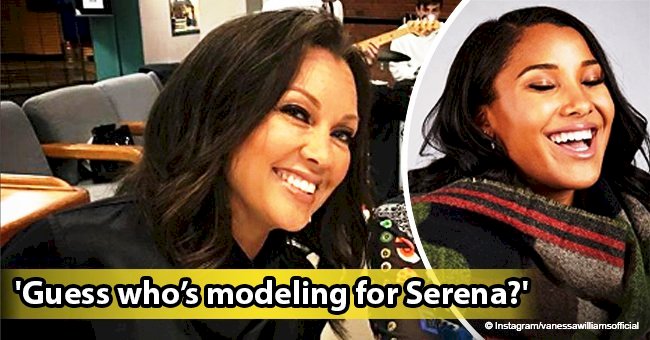 Vanessa Williams shares picture of daughter Sasha Fox modeling Serena Williams' fashion line
Sasha Fox, the daughter of singer and actress Vanessa Williams, appeared on her mother's social media modeling for Serena Williams' fashion line.
In the photo that Vanessa uploaded to her Instagram account, Sasha appeared wearing a black top covered with a colorful scarf while flashing her beautiful smile at the camera.
One of the aspects that attracted more attention to the post was her simple yet gorgeous makeup. For the caption, the proud mother asked her followers, "guess who's modeling for [Serena Williams]? [Sasha]."
PEOPLE'S REACTION
As soon as Vanessa uploaded that image, her followers took to the comment section to share their thoughts. One of them congratulated Sasha and pointed out that Vanessa's post was "cute." Others admitted that the 28-year-old model looked just like her famous mother.
VANESSA'S PARENTS
It is not the first time that one of Vanessa's posts has been labeled as "cute" as she recently paid tribute to her parents by sharing a picture of them on their wedding day, proving where she got her beauty from.
In the photo, newlyweds Milton and Helen appeared toasting glasses with their wedding cake in the foreground. In the caption, Vanessa revealed that the photo was taken in 1960.
CLEAR UP RUMORS
The image also served as a way to clear up all the controversy surrounding her ethnicity. Even though she has always identified herself as an African American lady, several people have questioned that because of her light skin, straight hair, and blue eyes.
Born to African American parents' Milton and Helen Williams, both music teachers of African and European descent, Vanessa's ethnicity would often be Googled out of curiosity over her surprising features.
"NOT BLACK ENOUGH"
When she won the title of Miss America in 1983 and was hailed as the first African American to land the prestigious honor, she was deemed as not black enough to earn the accolade.
In the image that Vanessa posted, it was evident that her parents are also African American with light skin. A DNA analysis run in 2013 revealed that she has genes from Ghana, the British Isles, Cameroon, Finland, Southern Europe, Togo, Benin, Senegal and Portugal, which might explain her striking features.
STANDING BY HER HERITAGE
Though many questioned her descent, Vanessa remains steadfast in identifying herself with African Americans. It's ironic considering she's being condemned for not looking black when in her youth she would often be bullied and called the N-word.
Today, Vanessa is proud of who she is and where she came from. Sasha is very likely to feel the same way, too.
Please fill in your e-mail so we can share with you our top stories!